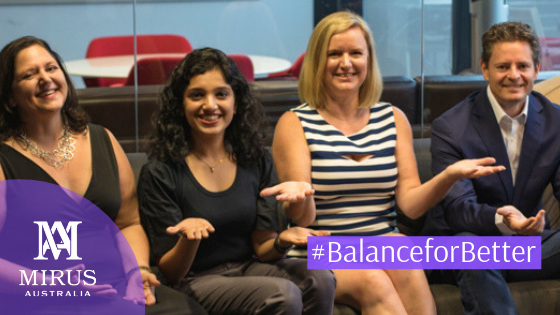 Pictured L-R: Lara Iacusso (Board Director) Kirti Nambisan (Marketing Coordinator) Sara Golding (Workforce Manager) and James Price (Co-Founder and Managing Director)
International Women's Day (March 8) is a global day celebrating the social, economic, cultural and political achievements of women. The day also marks a call to action for accelerating gender parity. International Women's Day (IWD) has occurred for well over a century, with the first IWD gathering in 1911. Today, IWD belongs to all groups collectively everywhere. IWD is not a country, group or organisation specific.
The organisers of IWD say that 'balance is not a women's issue. It's a business issue. The race is on for the gender-balanced boardroom, a gender-balanced government, gender-balanced media coverage, a gender-balance of employees, more gender balance in wealth, sports coverage, at home. Gender balance is essential for economies and communities to thrive. Collective action and shared responsibility are key. IWD celebrates the social, economic, cultural and political achievements of women, while also marking a call to action for accelerating gender balance. It's for anyone who cares about human rights.'
Mirus Australia hosted a breakfast for staff in Sydney, Australia to recognise the day. We also took the opportunity to coordinate a panel of Mirus team members to express their point of view about International Women's Day using the following questions:
(1) What does the phrase #BalanceforBetter mean to you personally?
(2) Which women or men are you inspired by and why?
(3) What taboos related to the theme of women do you wish were broken?

(4) What role or impact will you be playing this year in relation to women's rights?
Lara says she prefers the word "respect" rather than 'balance' and has challenged the social norms of her traditional European heritage towards women, especially professional women from a very young age. Kirti and Sara, who are both valuable members of the team, mums, and wives highlighted the balance of equity in their marriages when it comes to managing family and professional careers. Kirti also explained how her Nan continues to inspire with kindness and generosity.  Her Nan passed away over 20 years ago, Kirti explained, that even to this day, people in her local village in India, still continue to grieve her passing.
James said he is proud of the respect that is shown daily across the team, to each other and to our Mirus clients. He also mentioned the importance of promoting diversity in business not only gender but culturally and socially.
Nearly three years ago now, we worked with our People + Culture business partner to ensure we did not have a gender pay gap in favour of men in our business. An equal voice, equal opportunity and pay parity is important to all of us at Mirus.
For more information about how Mirus Australia supports the aged care workforce, please click here