Plan, cost and report the delivery of AN-ACC care minutes in aged care
The Mirus Care Minutes Manager helps you accurately forecast, plan and report your AN-ACC care minutes performance using planned and costed rosters.
The data and decision support tools you need to deliver and report on your AN-ACC care minutes
Care Minutes are an important part of the star rating score of residential aged care facilities. They will be mandated/measured from 1 October 2023 and are being monitored from 1 October 2022 as part of the Quarterly Financial Report.

Measuring care minutes for both permanent staff and casual/agency staff is difficult. Measuring this in real time and being able to act on information within a roster period is near impossible without appropriate tools.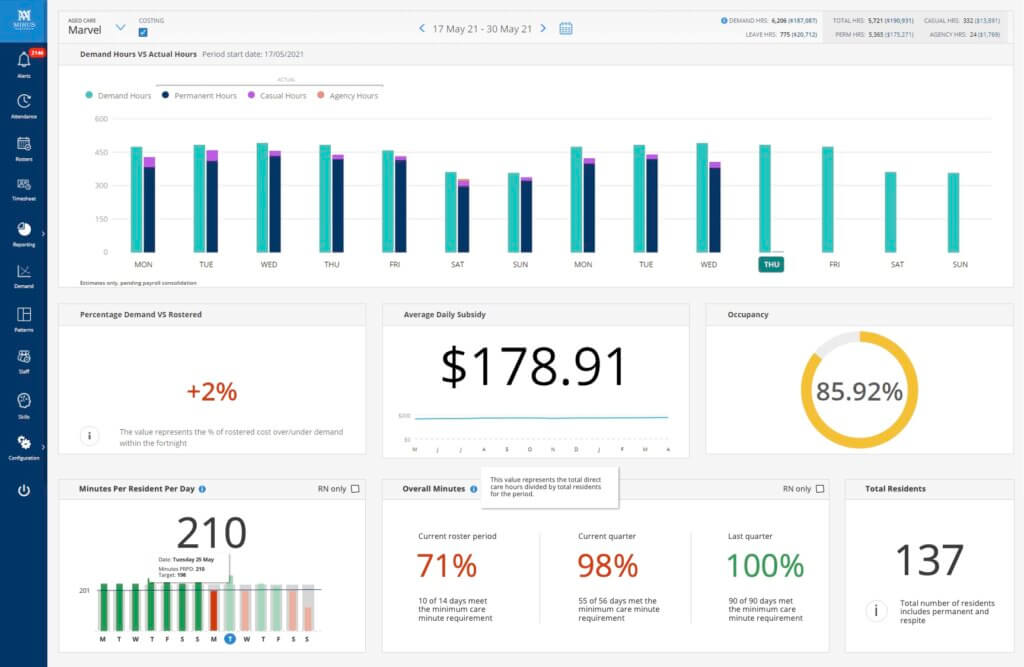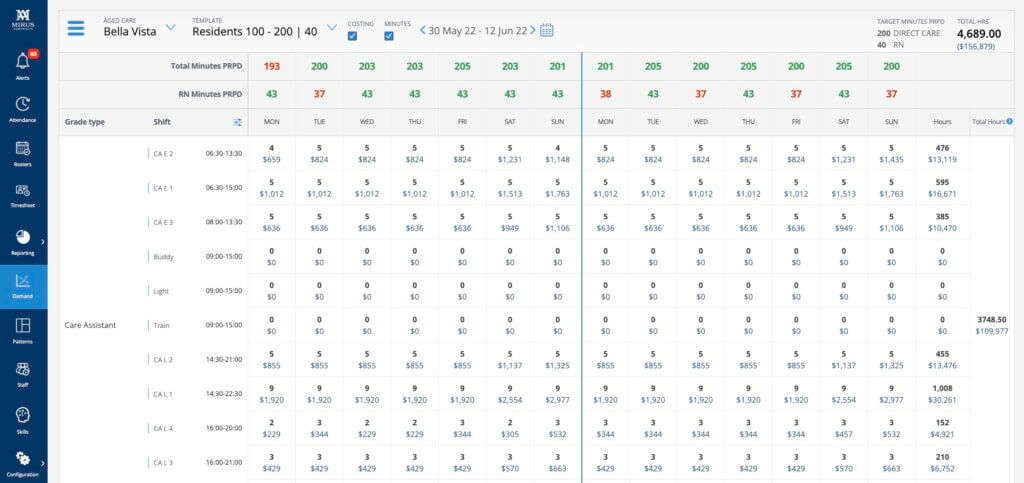 Our Care Minutes Manager is an aged care specific solution gives you this information in real time with accurate award interpreted hours.

The real time reporting will give you visibility of your actual costs, your forecasted costs and reporting to support your care minutes targets and compliance reporting, or QFR.

It's fast to set up and an essential tool to solve for a new problem. Find out how we can have this up and running to help you ahead of your next QFR.
The Care Minutes Manager includes:
A daily view of Medicare case mix funding by facility
Demand templates built on resident level minimum care minutes
Base rosters built on the demand templates
Costed roster functionality so you can scenario plan with costing
Compliance reporting in real-time or post event
Award Interpreted timesheets
Standardised reporting content to assist with Quarterly Financial Reporting
User support, and more…
This module integrates with the AN-ACC revenue tool, Mirus Metrics and is compatible with existing roster platforms so you can see the complete picture, fully and quickly.
How it works
The Mirus Care Minutes Manager brings together the best of two of our software platforms Mirus Metrics – for funding management and Mirus Works! – for workforce and rostering management.
Latest AN-ACC and Workforce Management News and Insights