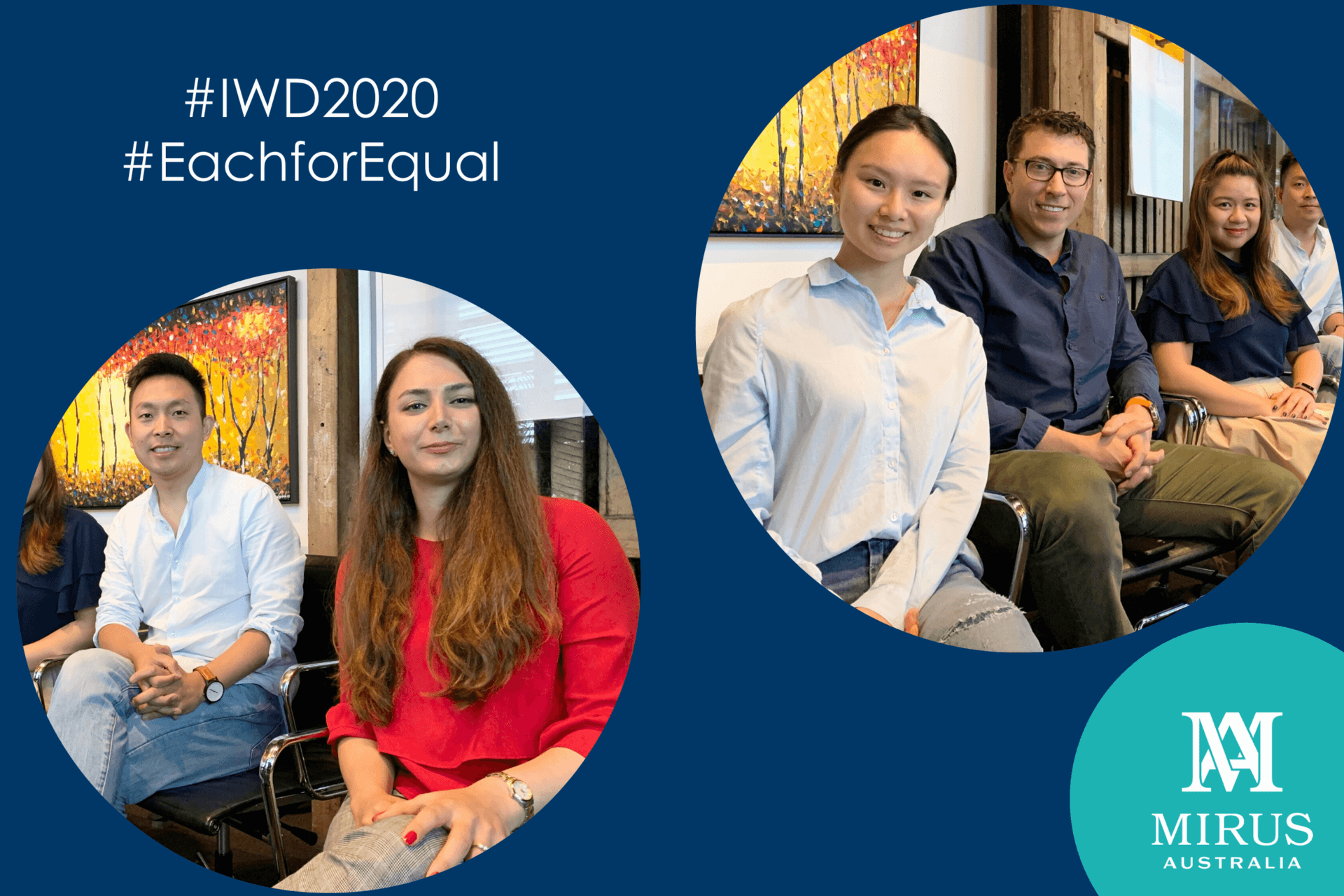 Pictured L-R: Sam Wang (Developer) Shery Shafei (Consultant, IT & Projects) Ji Huang (Consultant) Rob Covino (Co-Founder) and Joyce Boon (Senior Consultant, Workforce)
International Women's Day (March 8) is a global day celebrating the social, economic, cultural and political achievements of women. The day also marks a call to action for accelerating gender parity. International Women's Day (IWD) has occurred for well over a century, with the first IWD gathering in 1911. Today, IWD belongs to all groups collectively everywhere. IWD is not a country, group or organisation specific.
#IWD2020 #EachforEqual
On Monday 9th March, we stopped for morning tea in our Sydney office, to discuss 'an equal world is an enabled world'  in support of International Women's Day 2020.
Joyce Boon, Senior Consultant of Workforce Management at Mirus Australia hosted a discussion with four (4) of our colleagues as the panel guests.
Prior to the morning tea, we asked our guests to think about the following:
(1) What is your idea of equality in your generation? And please draw from your own experiences socially or culturally or professionally, either positive or negative.
(2) Which women or men are you inspired by and why?
(3) Have you ever had a conversation about equality with a female member of your family? Please think about situations this family member have talked to you about where they have experienced biases or stereotyping
(4) How is your experience around equality different from the person you just mentioned? Can you see examples in what you experience today that are different from your family member's or previous generations'?)
Our guests included:
Sam Wang, born in China, Developer
Ji Huang, born in China, Consultant
Shery Shafei, born in Iran, Consultant (IT & Projects)
Rob Covino, born in USA, Co-Founder at Mirus Australia
Joyce commenced our discussion by paraphrasing feminist icon Emma Watson, "Everyone needs to be involved. Individually we are all ultimately responsible for our own thoughts and actions. Collectively we are all responsible for equality."
Emma Watson once played the inspiring Hermione Granger in the Harry Potter film series. In the years since hanging up her wand, however, she has joined the fight for gender equality, most notably by becoming a vocal member of the UN's "He For She" equality campaign.
Ji explained that she experienced bias from another woman whilst working at a previous company in China. After Ji was given the largest client to manage, a more senior woman commented "You look too young to be able to do this!".
Ji also shared the story of her grandmother who had three children whilst building her business in China for over 70 years. In her grandmother's words, Ji was "lucky she is to be able to pick and choose her career." In retrospect, Ji remarked, "Choice is very important to me and so is making these choices with a kind heart. Many of my female peers in China are now moving to Executive roles in start-ups which is a fantastic trend. We all need to change within ourselves first."
Sam noted that he was pleased to see the rise of more developers and engineers in the technology space as female tech bloggers have become more prominent figures. He reflected on the changes that he has experienced in his social life, including "Girls like smart boys, not rich boys"! This incentivised him to keep learning.
In addition, he emphasised the role families have in changing the social norms and attitudes for boys, "Most men are raised by a woman." Sam recalled how a close friend, the only daughter of a traditional Chinese family, almost missed  the opportunity to move to the US for college.
"Traditional families still want their daughters to stay close to the family. In this case, the family finally relented and are trying to better understand the changes to our modern communities."
Shery, who originates from the Middle East, said, "Every morning I wake up and I am so happy to be able to go to work!". She explained she was lucky to be inspired by a strong community of women and that she followed the work of inspiring women on LinkedIn regularly. "Women need to believe in themselves first before anybody else will. I love living in Australia. Simple things like being able to ride a bike on the street is important to me!"
Rob, who was born in the USA, liked that Australia has a "have a go" approach to everything. Inspired by Julie Bishop, Rob remarked, "She has had significant leadership roles and continues to reinvent herself. She is a country girl whose tally embodies the 'have a go' philosophy!". Rob recalled working for a large consulting firm where a senior male partner was one of the first colleages to take a 12 month paternity leave. People commented this was a 'career suicide' especially when "We were in our 30′ or 40's trying to establish ourselves". Said colleague went back to work and continued to have a successful career. Rob is also inspired by his own mum, who'd grown up in a traditional Italian household, where the men were always served dinner first. His mum was a school teacher and shouldered most of the child rearing. As a parent himself now, he better appreciates how hard this must have had been for her. 
An equal world is an enabled world. How will you help forge a gender equal world? Celebrate women's achievement. Raise awareness against bias. Take action for equality.
The journey of equality continues.