How are you managing your life at the moment?
I recently read advice from a health professional that suggested you may feel a little better about all of the current challenges – if you take control of a tiny part of your life.
You may not be able to control the world but you can organise your kitchen!
I'm a master organiser, by passion and profession. This is both a gift and a curse, as they say. Please find my top 6 tips on how to organise your kitchen:
(1) What you love and use the most should be in the easiest place to reach
Choose the cabinet/s that are the easiest to reach and place all the things you frequently use and love the most there. Leave the hardest to reach for the "special" dinnerware. Ensure your kitchen bench has all the equipment you use daily (for example your coffee machine or kettle). You will also find that cooking becomes much more enjoyable if your equipment is easy to reach. Ensure pots and pans and measuring jugs and mugs and their handles are easy to reach.
(2) Less is more
Chances are that if you have fifty cutlery pieces in a crammed drawer, you will never ever use any! You may open that drawer and even curse for five minutes until you find the elusive zester! Get rid of anything that doesn't bring you joy, as per KonMari – the famous Japanese organising consultant. The drawer with 10 things that you can find easily will receive much more love and visits!
(3) Use organisers & please purchase a Knife block!
Whether you visit (online of course) Howards Storage World or simple and cost-effective baskets from K-mart, Target or BigW. You can find trays, drawer-organisers, mini baskets, and cabinets organisers that will suit your every need. For example, it is much easier if you don't have to take a pile of heavy plates out to get to the bigger plates under them. I have a special love for my knives, which is why I strongly recommend a knife block with polypropylene straws. The block can take a large number of knives of different sizes and keep them easy to reach, safe and the straws are designed to keep knives sharp.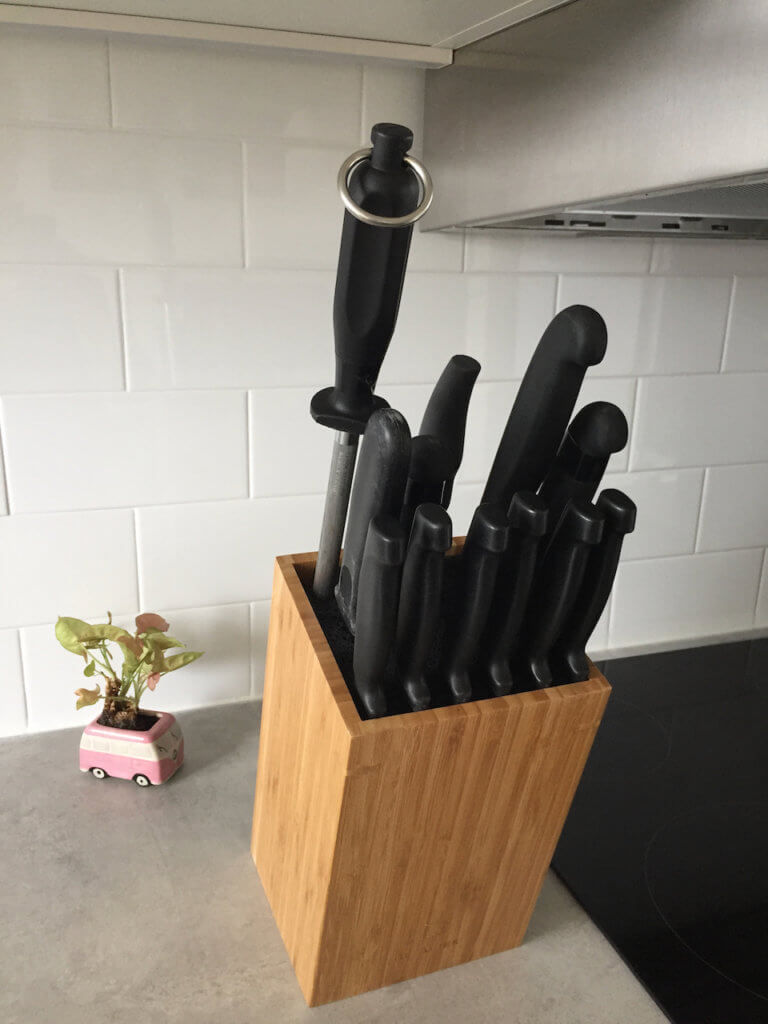 (4) Separate lids and containers
I prefer to keep my plastic containers separate from the lids because if they are closed especially in humid weather, they can start to smell!. By separating them you need much less space and you can pile the little ones inside the big ones. Put the lids by size in a separate place vertically. This way it is easy to find the lids that fit each container. For advanced organisers – purchasing colour coded containers is a great idea too.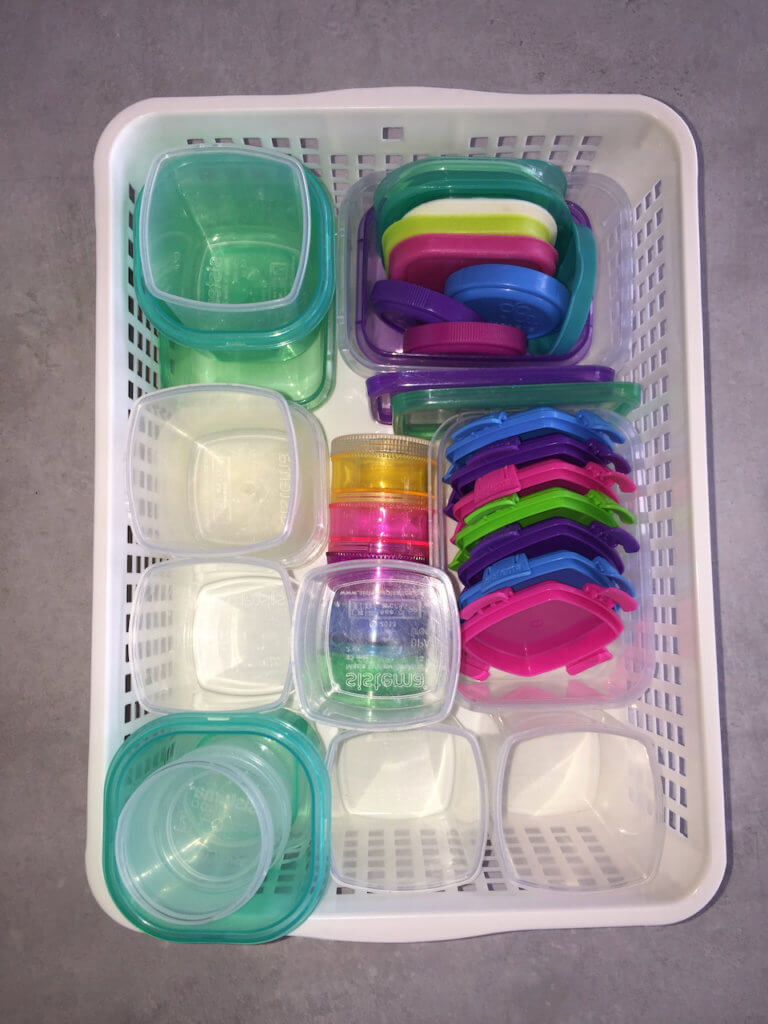 (5) Use vertical storage
As with the containers, vertical storage is highly efficient. Use it for cutting boards, lids, and even plates and trays, you will find a lot of extra space if you do that. Great for long cutlery, such as spatulas, serving and wooden spoons, baking trays and large-shallow containers.
(6) Finally, organise by categories that will make sense to you
Lastly, find your categories and place them closest to where they are going to be used. For example, the spices category may go well above the stove. Pots and pans are ideal beside the stove, and place trays in the drawer under it. Reserve a space for the pantry and place all food items there. All the sauces go together. Cleaning implements in a group and away from any food. These categories are very personal to you and your needs. I've helped a few kitchens get organised and as an example, for my sister and her partner, I've organised a breakfast category, with tea, various types of coffee and hot chocolate on top of the coffee maker and near the kettle. For my best friend, we reserved a whole cabinet for her Teapot and Tea set collections.

Give the most space and prime positions to what you love seeing the most! You should be at the centre of your kitchen! And so there are my six tips to help you control a tiny part of your world and make your kitchen one of your favourite places in the house!
By Tania Crivellenti EA / Office Manager at Mirus Australia