Validations are necessary because they enable the Australian government to confirm that ACFI claims made by providers are accurate and in line with guidelines, so funding is given fairly and equitably to the care needs of older people. This check on providers means that Medicare can claim back funding on any claims that cannot be fully substantiated.
At Mirus Australia we've supported clients across Australia at hundreds of validations. Getting ready for a successful validation outcome means being proactive, standardising your process and up skilling your team. By embedding a process that supports ongoing quality of ACFI claims, validations don't need to be a stressful experience nor one that results in lost funding!
The Department of Health is consistently reducing the number of ACFI claim reviews, but the number of claims downgraded remains steady. Shown in the chart below are the quarterly totals of claims reviewed compared to the number of claims downgraded for the past 5½ years.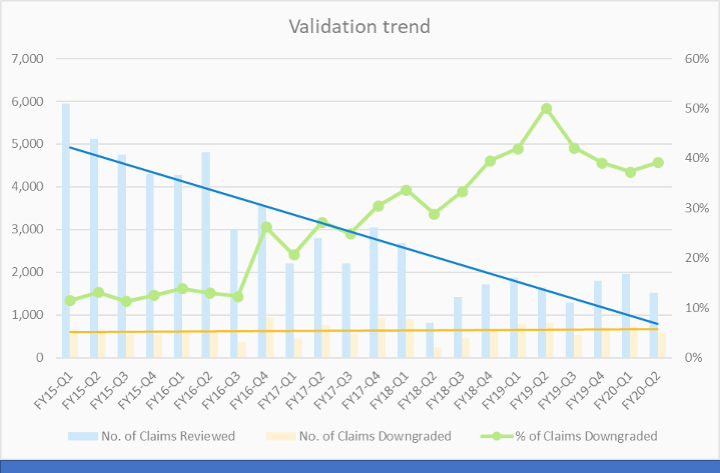 Source Aged Care Funding Instrument (ACFI) Review Quarterly Reports
This increase in Departmental efficiency means that the proportion of reviews that are downgraded has increased from 12% to 40%. For validators to maintain consistent downgrade totals while reviewing fewer and fewer claims means that they know which claims are more likely to result in a downgrade before they even set foot onsite at a provider's facility.
So, how can the Department target claims that are more likely to fail validation? And, more importantly, how can you use this information to mitigate your risk of losing funding via subsidy clawback?
Firstly, high risk claims can be flagged for several reasons:
Claiming patterns

Spike

in

voluntary submissions

I

ncongruence in claims

e.g. mobility & wandering

Larger

proportion of older claims e.g. 50% of claims over 12 months old

Frequency in claiming certain Complex Health

C

are procedures

Providers who have performed poorly in previous validations are more likely to be validated again.
By analysing ACFI claim data for these red flags and targeting facilities who fit one or more criteria, validators are more likely to find cause for downgrade based on:
Inconsistency in documentation, e.g. one documentation stating requires physical assistance for task while progress note says task carried out independently or under supervisio

n

Incomplete or missing documents

Inaccurate coding of behaviours and claiming of behaviours that do not require staff time to manage

Gaps in t

he t

reatment records

of Complex Health Care procedures

Including clinical evidence and documents dated and included after the submission date

Comments from floor staff in interviews used to counter-claim
Now, applying this information to your organisation or facility could mean a number of things including:
Review all recent and at risk ACFI claims to ensure that all documentation is robust and fully supportive of claim

At risk

may include, but is not limited to claims with

palliative care, or claim

s

with

high level of wandering and physical assistance for mobility

Check that ACFI packs are up to date with dates and signatures where required

S

taff

preparation

–

Ensure applicable staff

can talk to care needs of residents at time of ACFI claim submission

Familiarity with the validation process and equipped with the tools and information to respond appropriately to

validators
The 'methodical analytics' the Department applies your Medicare claims is available to you as well; enabling you to identify risk and areas for improvement. Along with a clinical team that can remove the documentation burden from onsite clinical resources, access your CMS & clinical documents, ensure consistency between clinical documentation & supportive evidence, and write high quality, person centric assessments/care plans.
We work hard to help Aged Care Providers do more for their residents and expect better business outcomes. We partner with our clients to help them refine processes, up skill their teams and improve the financial health of their organisation. Contact us to learn how our clients benefit from the support we provide before, during and after a validation and our goal of #makingagedcarebetter
Tyler (Ty) Fisher is a data nerd and proud of it. Actually, Ty is way more than a data nerd as he leads the Business Intelligence team at Mirus Australia providing expert business revenue and management process advice. Please connect with Ty on LinkedIn.