Mirus AN-ACC & ACFI Calculator

Find out how we built
the AN-ACC calculator
Our ACFI and AN-ACC calculators use published guidelines, criteria and thresholds to take clinical inputs, scores and ratings to derive a case mix classification in accordance with intended functionality of the respective tools. Additionally, the ACFI calculator can estimate an AN-ACC classification based on the detailed inputs required to derive an ACFI classification. Resource utilisation studies have determined that the most significant cost drivers in residential aged care are admission for palliative care; frailty; mobility; activities of daily living; cognition, communication and behaviour. Additional cost drivers include mental health, risk of pressure wounds and technical nursing requirements. All these care requirements are assessed in ACFI and AN-ACC, therefore allow for estimation from one to the other. 
For example, the most significant consideration under AN-ACC is that of the care recipient's mobility. The De Morton Mobility Index (DEMMI) is used by AN-ACC to determine if a care recipient is 'Not Mobile', 'Assisted Mobility' or 'Independent Mobility'. A DEMMI score of three or less is considered 'Not Mobile'; between four and 12 is 'Assisted Mobility' and a score of 13 or greater is 'Independent Mobility'. With ACFI we can understand a care recipient's mobility based on the level of assistance in transfers and locomotion (independent, supervision, physical assistance and the use of Mechanical Lifting Equipment). We can gain further insight to mobility from additional items such as maintenance of skin integrity through repositioning, the need for compression garments and wound management.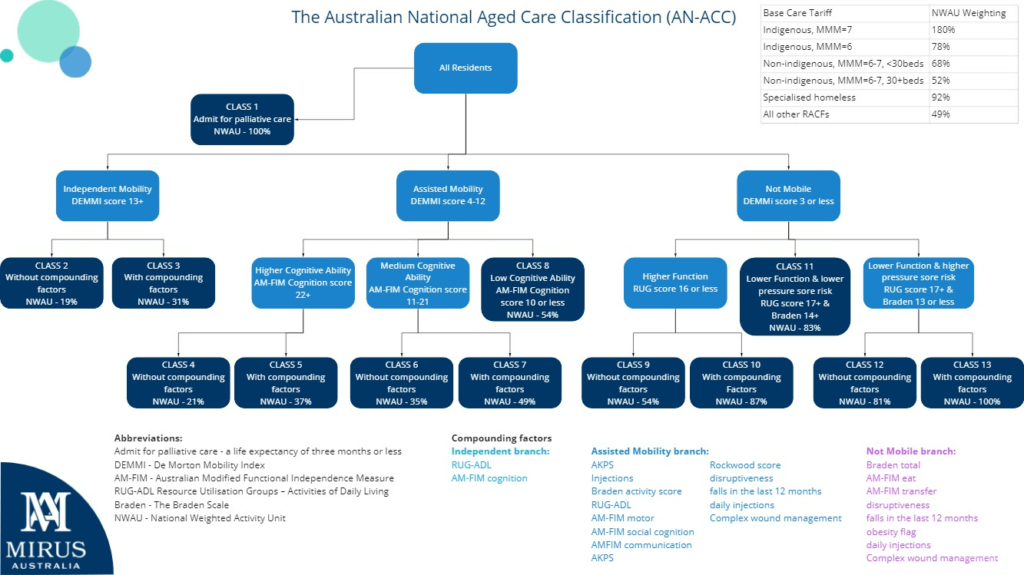 We use all ACFI inputs to estimate the AN-ACC branch a care recipient would take at each tier. Some ACFI inputs are considered multiple times, depending on the branch path from 'All Residents' to 'Compounding Factors'. 
By applying our algorithm across all residents in our dataset (89,000+ beds) we see the industry AN-ACC classification distribution. Combined with the known weighting of each classification (i.e. Class 1 and 13 = 149% of NWAU, Class 2 = 68% of NWAU etc. [assuming the facility is 'All other RACFs]) we can then calculate the value of NWAU based on current Average Daily Subsidy (ADS).
Calculating the NWAU
The Average Daily Subsidy for all permanent residents with an ACFI assessment today is $190.52 (as of 24/8/21).  This equates to an annual expenditure of $12.48 billion of ACFI subsidy paid.  The Government has committed $17.7 billion over five years in additional aged care funding.  This release from The Hon Greg Hunt MP earmarks $3.9 billion to increase the amount of front line care minutes and $3.2 billion to fund a Basic Daily Fee Supplement of $10 per resident per day. Both of these expenditures will be paid via AN-ACC subsidy, along with Viability and Homeless supplements.  
Therefore, the Average Daily Subsidy will be higher with AN-ACC than what it is today with ACFI. The Department of Health notes that the National Weighted Activity Unit (NWAU) starting price on 1 October 2022, "will be higher than the ACFI average of $185 per day". It is important to note that the Basic Daily Fee Supplement, the Viability supplement and the Homeless supplement are being paid today and will simply transition from a dedicated supplement to part of the AN-ACC subsidy. 
Based on the earmarked budget items, adding $2b to annual subsidy expenditure would result in an Average Daily Subsidy (ADS) of $222 or an NWAU value of $198.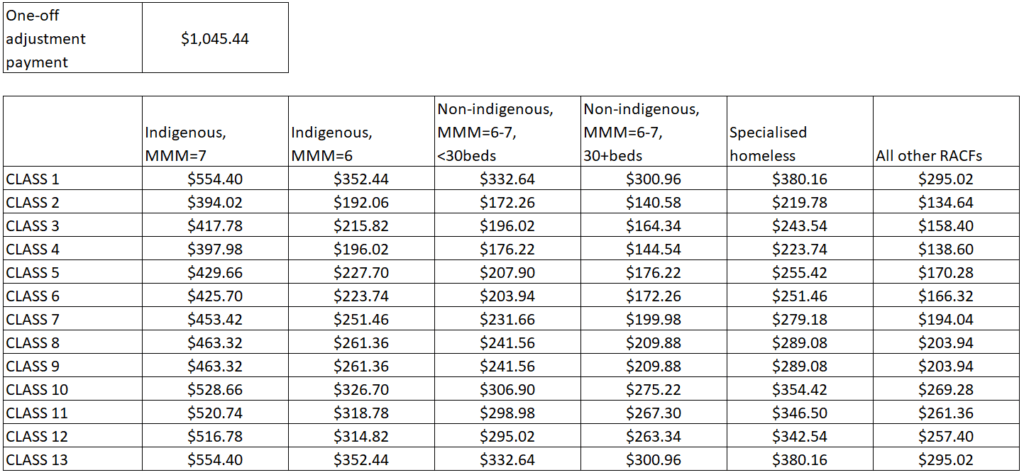 An industry ADS increase of 8% – 11% is welcome news but each facility will be impacted differently, with some still potentially better or worse off under AN-ACC.  For example, the additional funding may be more than enough or too little to offset additional costs associated with increasing front line care minutes depending on the care model. Facilities currently attracting viability supplement but not located in Modified Monash 6 or 7 will need to assess the impact of losing that supplement without any AN-ACC replacement. 
The AN-ACC calculator on Mirus' website allows for adjustment to the NWAU assumption and the facility type.  On-demand AN-ACC reporting available in Mirus Metrics assumes an NWAU of $198 and a facility type of 'All other RACFs'.
The calculator is just the beginning
Discover our full suite of tools designed for the Aged Care sector.
We partner with over 100 care providers
"A higher level of care has been delivered to our residents as a result of working with Mirus"
"I was really impressed with the focus Mirus Australia have towards education. To have the skill of experts to keep my staff abreast of changes and to provide support on an ongoing basis is paramount to me."
"A proven methodology to ensure we are capturing our clients needs on a regular basis."