Measure and monitor aged care funding with Mirus Metrics
Business intelligence software for aged care providing care revenue data from Medicare in an easy to read and insightful format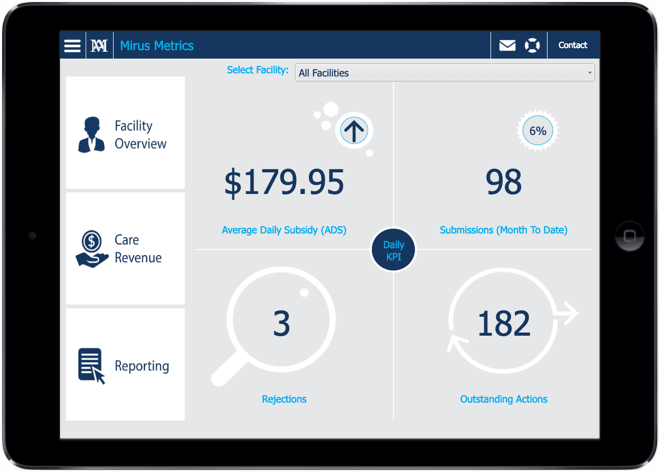 First revenue management tool
for Aged Care.
Subsidy simplicity with Mirus Metrics
Actionable insights
Act on clear, data-driven revenue insights and empower your team to drive a proactive revenue management strategy.
Up to date reporting
Your Medicare data updated daily providing an accurate and reliable snapshot of your organisation's performance.
Save time
Forget spending hours buried in spreadsheets. Standardised reports and insightful dashboards; Metrics provides intelligence on-demand.
Key numbers
$
6
Billion
Annual total revenue under management
+
70
%
Of Provider revenue is derived from Medicare funding
Measure and monitor funding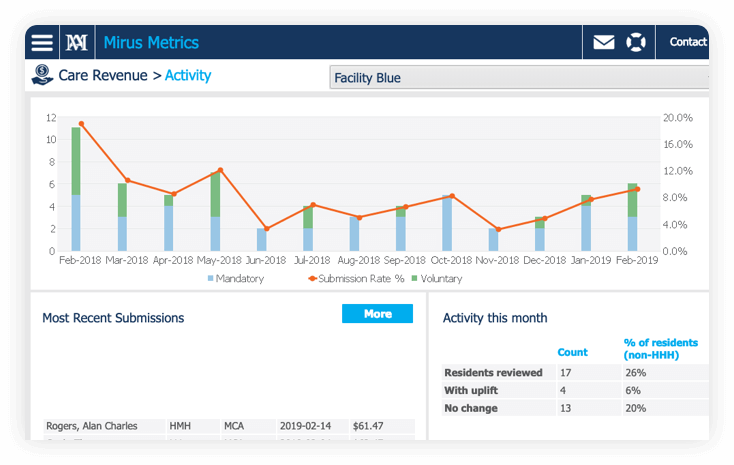 Clear Visualisations & Indicators
Dashboards designed to help you easily monitor historical and current performance across a wide range of metrics.
A clearer view over your organisation's performance today to understand where improvements could be made. Find and monitor ACFI, identify areas in need of attention and track progress to budgets.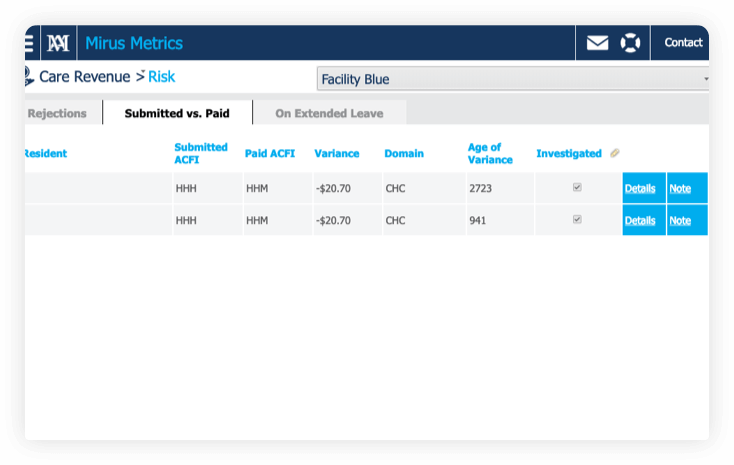 Task Management
Stay on top of every ACFI assessment, submission and rejection. See what's coming up across every facility with centralised task lists so your team never miss a beat.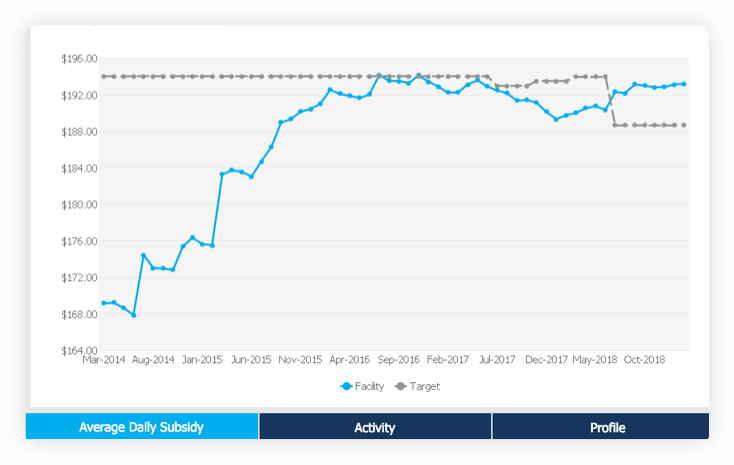 Benchmarking Reports
Tailored competitor benchmarking reports evaluating your performance against our industry database of over 70,000 beds.
See how you stack up in key revenue indicators including ADS, occupancy, submission activity and new admissions.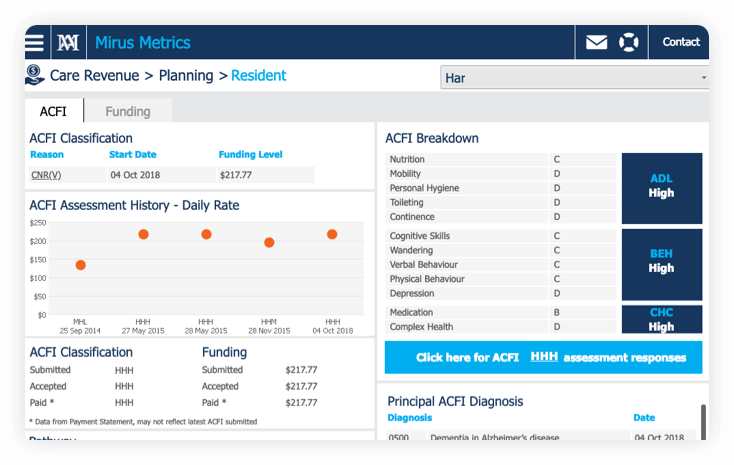 Anytime, Anywhere
Your team doesn't stay in one place all day so neither does Mirus Metrics. Seamlessly switch between mobile, tablet or PC so your team can monitor, and update assessment details on-the-go.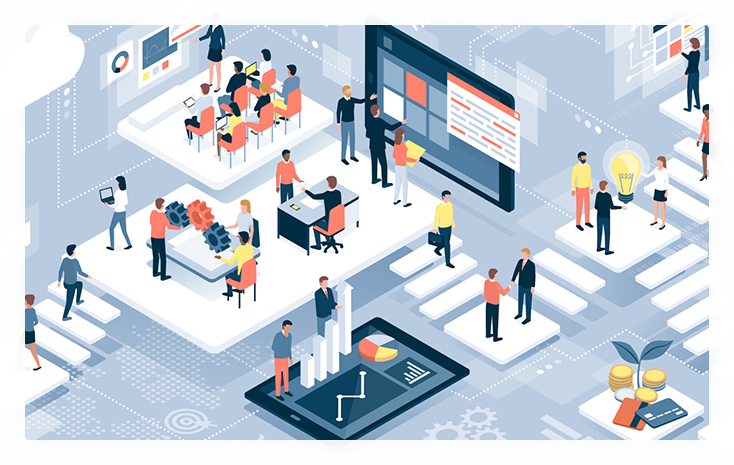 Expert Support
We understand ACFI management decisions aren't always black and white.
The Mirus ACFI support team is just a phone call away to support your team.
That's not all!
Visualisations & indicators
Forecast your revenue to understand what next month's Medicare payment will be before it's paid. Monitor historical financial performance.
Find and monitor ACFI uplifts to ensure care payments align with care needs and identify areas for improvement and track progress to budgets.
Task lists
Identify upcoming new entry & expiring claims and their mandatory submission dates.
Review respite residents to ensure they have been successfully processed into permanent beds or out of the facility.
Resident ACFI profile
Confirm that all complex health procedures being undertaken are being claimed and ensure all claimed procedures do not pose a validation risk.
Virtual whiteboard
Encourages a targeted approach to ensure ACFI funding is sustainable. Improves quality of Medicare information by reducing the risk of incomplete or incorrect Medicare data.
Auto-reconciliation
Confirm ACFI related events submitted to Medicare have been accepted to ensure there are no discrepancy which could cause reduced payments and/or increased workload.
View by facility
Discover the data at an organisation level or break it down per facility.
Variance management
Reconcile ACFIs submitted versus ACFIs paid and action as appropriate.
Claim statuses
Confirm ACFI submissions have been accepted by Medicare as expected.
Show me more features!
Show me less features
Metrics HQ
---
Up to 5 users
On-demand reporting
Bi-annual revenue insights
Most Popular
Mirus Metrics Core
---
Unlimited users
Face to face training
Quarterly revenue insights
Metrics Plus
---
Medicare Advisory Support
Dedicated Business Analyst
Bi-annual management advice
Monthly revenue insights




Request a trial subscription now!
* Base prices are AUD ex.GST.
Implementation and integration costs are provided as per your own organisation's needs.
Please don't hesitate to contact us to discuss your requirements or for indicative pricing for budget management.
We partner with over 100 care providers
"Bethanie has used Mirus Metrics for the last 5 years. It has proved to be a vital part of our ACFI management process. Mirus Metrics assists our Facility Managers and ACFI Coordinators to identify and track residents for review. The real-time feedback on our performance also ensures we remain focused and can celebrate our successes. "