Mirus Marketing
A long life is definitely worth caring about.
And so is the life of your brand.
Delivering digital presence for your organisation.
How Mirus Marketing can help you
Attract the right audience
We leverage digital channels to meet your audience where they are already spending time: online.
Rise above the crowd
Dominate the conversation & strengthen your reputation via cleverly delivered online PR.
Bring your brand to life
Use our analytical expertise to give your brand the profile it deserves.
Key numbers
68
%
of aged care marketers say that a website is the most effective channel to acquire clients*
+
28
%
Media spend in the aged care and retirement sectors year on year**
Pulse & Diagnostics
Ensure your strategic marketing plan captures the nuances & 'the pulse' of the aged care industry, to improve planning and to inform your marketing tactics.
For example, occupancy benchmarking, market reach, demographics, your share of voice against your competitors and accommodation pricing comparison. Suitable for board directors, executives, and senior marketing professionals.
Dashboard Reporting
You have your marketing activity humming, the phone is ringing and your lead pipeline is full! However, you could certainly do with an extra pair of hands and eyes at the end of the month.
Utilise our senior marketing managers and data analysts for your monthly reporting requirements. Suitable for middle managers and marketing professionals in aged care.
Co-source
Your marketing strategy and budget has been approved by the board! However, your marketing team is really small or non-existent and you need some help.
Work closely with our dedicated senior marketing managers to support your tactical execution plan. Suitable for executives, middle managers, and marketing professionals.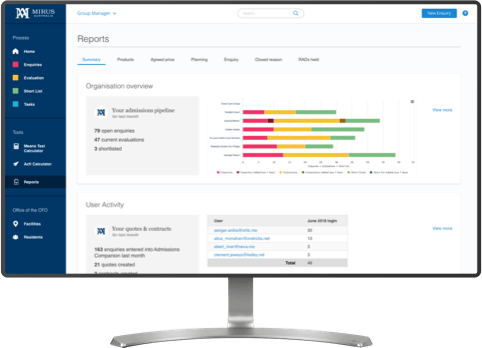 Hand-in-hand with Admissions Companion
Powered by Salesforce™, Admissions Companion can easily integrate into your current ecosystem. Connect to your financial, care management or website to automatically capture enquires.
Learn More
We partner with over 100 care providers
"A higher level of care has been delivered to our residents as a result of working with Mirus"
"I was really impressed with the focus Mirus Australia have towards education. To have the skill of experts to keep my staff abreast of changes and to provide support on an ongoing basis is paramount to me."
"A proven methodology to ensure we are capturing our clients needs on a regular basis."