Plan, track and report the delivery of AN-ACC care minutes in aged care
Don't have the tools to track and report on your care minute performance? Use Care Minute Manager and get daily dashboards and reporting that shows if you've met the day's target and whether you're on track for the quarter.
Care Minute Manager is a platform that connects with other rostering software to provide daily care minute management data
Care minutes will be mandatory from 1 October 2023 and are already being monitored as part of the Quarterly Financial Report. They are also an important part of the star rating system of residential aged care facilities.

Calculating care minutes for both permanent staff and casual/agency staff is complex. Measuring this each day and being able to act on information within a roster period is near impossible without the right tools. This is a unique requirement for Australian aged care and not every roster system has this functionality.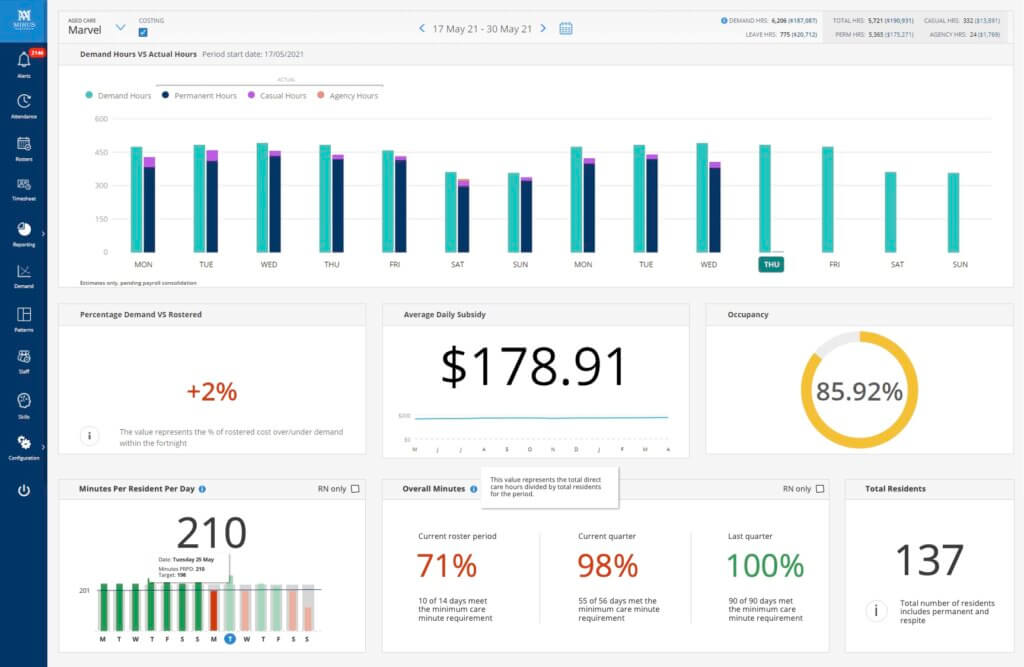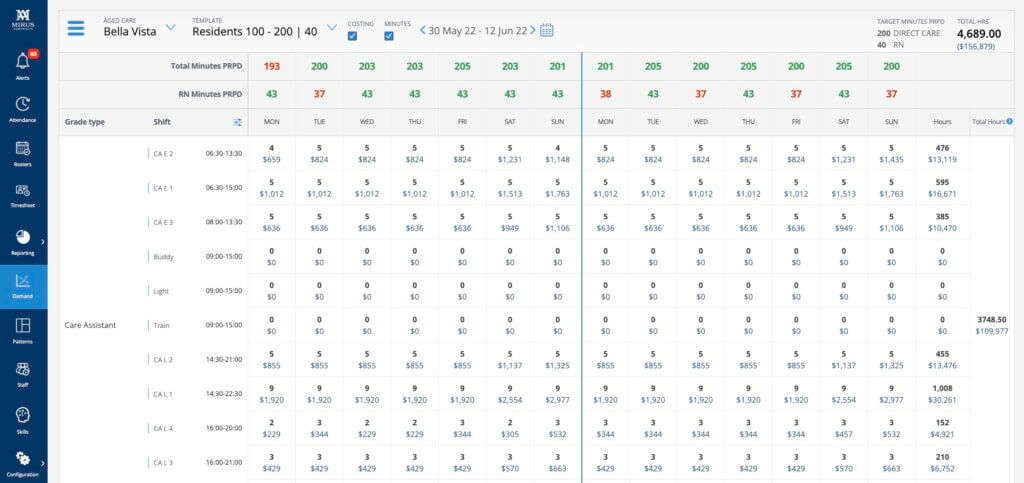 Care Minute Manager is a tool to help you manage your care minutes. As your daily timesheet extract automatically updates our system, the dashboard will show you each day if targets are being met. If they're not, the easy-to-read graphs will help you to identify why.

Forget about spreadsheets and paper reports, keep a closer eye on your care minute delivery with real time reporting from Care Minute Manager. It's easy to sign up and quick to configure.

Don't understand your care minute requirements well enough? We are experts in understanding AN-ACC and care minutes so we can help you make sure you are set up properly and achieving the best result possible.
The Care Minute Manager gives you:
A daily view of performance against your quarterly care minute target
Roster scenario templates based on care minute targets, resident count and budget
Base rosters built on the scenario templates
Suggested ways to optimise rostered hours to balance care minutes and budget
Standardised reporting to assist with Quarterly Financial Reporting
User support, additional advice on interpreting care minute guidance and more…
How it works
Care Minute Manager is a platform that connects with your existing Rostering software to give you a daily view on care minute targets so that you can meet your goal.

You don't have to change your current rostering solution, making Care Minute Manager an affordable addition to your existing infrastructure. Plus, it takes very little time to set up.

With a standardised reporting template, you'll be able to use your real time data to fulfil your Quarterly Financial Report care minutes data on the hours worked.
Latest AN-ACC and Workforce Management News and Insights