AN-ACC Resource Hub
Tools, insights and advice to help your organisation transition from ACFI to AN-ACC with confidence.


8,000 visitors use our AN-ACC calculator every month.
Try the AN-ACC Calculator
The Aged Care Funding Instrument (ACFI) transitioned to the new Australian National Aged Care Classification (AN-ACC) funding model on 1 October 2022.
We are committed to helping our clients through the transition by providing advice and tools to support you as you work through the implications to your business across finance, people, processes, data and systems.
Introduction to AN-ACC for Residential Aged Care
Introduction to AN-ACC Assessments
Upcoming webinars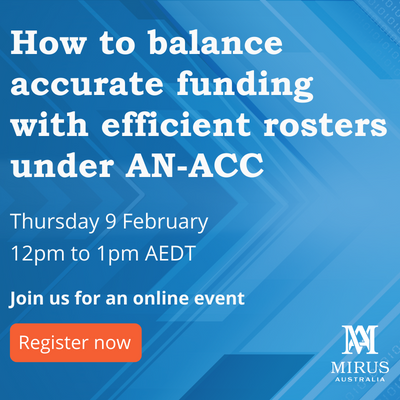 Learn the operating model where funding, admissions and care minutes are optimised in our February Webinar.
History shows us that transitioning a funding mechanism in Aged Care is hard. For several years, the industry struggled to draw the correct funding out of the model. This is mostly due to the steep learning curve required to understand the nuances of the new model and the subtle adjustments in operating model that is required to optimise the results.
A significant proportion of the industry is still working off their AN-ACC shadow assessments. This is creating inefficiencies in process as organisations are finding it difficult to optimise revenue and connect funding (case mix) to minimum care requirements. In addition, workforce shortages and legacy rosters are resulting in significant spend on overtime and agency staff.
This webinar will explore the essential elements of an AN-ACC target operating model that will drive efficiencies in your rostering.
AN-ACC services & solutions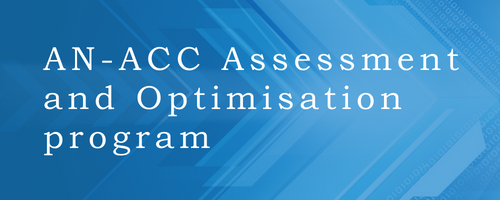 AN-ACC Assessment & Optimisation program
A review of your aged care facility to validate the accuracy of AN-ACC subsidies, and education for your team on the AN-ACC assessment tools.

Tools to help you prepare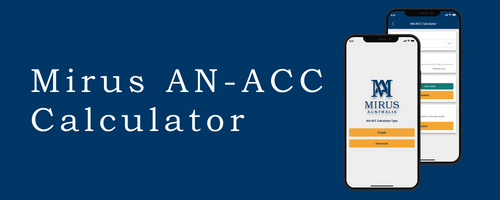 Mirus AN-ACC Calculator
Be in control of your AN-ACC assessment data by applying the AN-ACC funding mechanism to calculate your resident case mix classifications.



Thought leadership and past webinars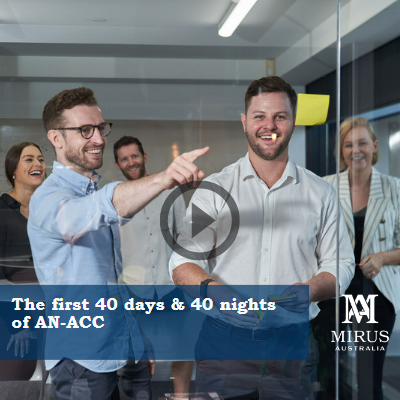 Star ratings and Aged Care Reform in 2023
Star ratings, Quarterly Financial Reporting, New Quality Indicators and more
We are in a period of relentless change in the Aged Care industry with the next 12 months no exception.
The best way to cope with change is to stay informed. How is the industry preparing for all this consultation and change?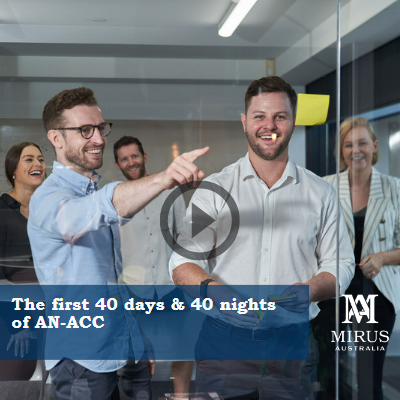 The first 40 days & 40 nights of AN-ACC
What have we seen, how has it been, what have others experienced?
The industry is experiencing one of the most significant changes in more than a decade with the funding transition from ACFI to AN-ACC. The path through change like this undoubtedly comes with bumps along the road. In this webinar, we share insights from the experiences of providers representing more than 40,000 beds on how the transition has been for them.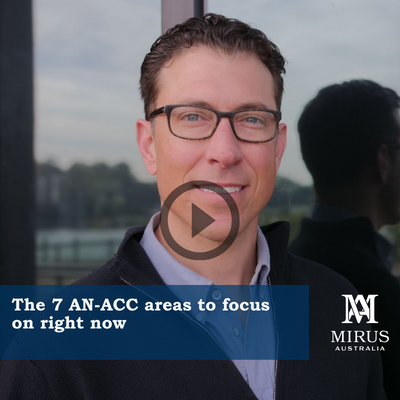 The 7 AN-ACC areas to focus on right now
Explore the key priorities for providers at various stages of their transition to AN-ACC.
For the last year, we have been working with providers representing 40,000 beds to help them prepare for their transition from ACFI to AN-ACC. During this webinar, we will draw together these experiences and insights to share how these providers have prepared their people, process, systems, data and finances. We will also discuss the 7 key areas we believe providers at different stages of AN-ACC preparation should be focused on right now.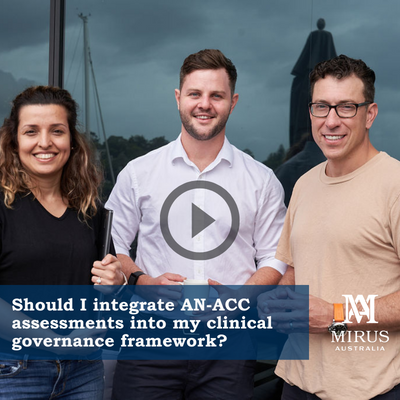 Should I integrate AN-ACC assessments into my clinical governance framework?

While some care management systems have started to release AN-ACC assessment tools into their suite of assessments, providers should consider whether integrating these assessments into their clinical governance framework is beneficial and when is the best time to do this. In this webinar, we shared the experiences of over 40 aged care providers, representing 30,000 beds, on their transition to AN-ACC, what the are factors that providers should consider when making the decision if or when to adopt the AN-ACC assessments, which assessments may be more fit for purpose or beneficial than others, and some examples of the approach taken by providers on the industry panel.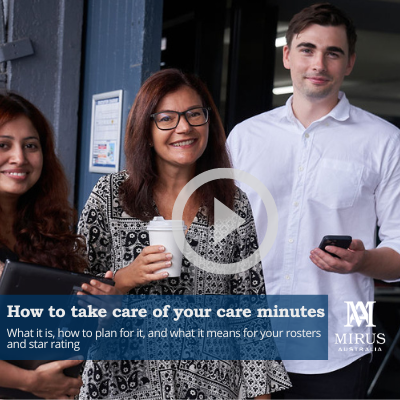 How to take care of your care minutes
The 200 minutes of care per day (including 40 minutes of Registered Nurse time) are an average target across the sector. Each facility will have a unique care time target, depending on the AN-ACC case mix classification of their residents, at a point in time. This will mean that watching your care minutes change will be an important part of predicting your future workforce demands. Through our work transitioning aged care clients from ACFI to AN-ACC, we field lots of questions related to care minutes and rostering. Along with an industry panel, this webinar shared these insights.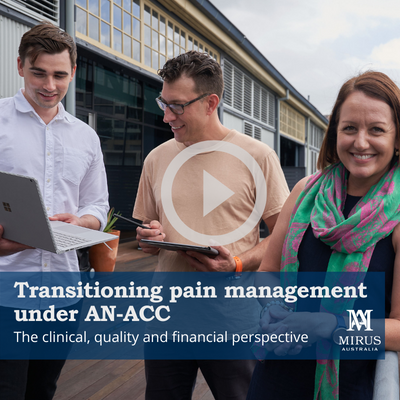 Transitioning pain management under AN-ACC
One of the key issues providers need to address with AN-ACC is pain management. We need to remember (1) There is no specific pain management claim under the AN-ACC model, and (2) Allied Health staff are not included in the care minute requirement. This webinar explored the key steps that can be taken to transition your 4b pain management program.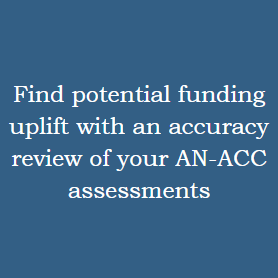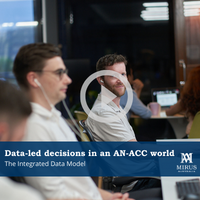 Data-led decisions in an AN-ACC world
Aged care providers will need to draw together workforce data, admissions data, and funding (Medicare) data in order to operate under AN-ACC. So, how do you ensure you have the data to support decision-making? The Data-led decisions in an AN-ACC world webinar explores the Integrated Data Model providers will need to know with the transition to AN-ACC. Watch the recording out now.
Aged care reform insight
AN-ACC industry insights & tips
Stay on top of the latest insights, trends and news from the aged care industry