AN-ACC Resource Hub
Tools, insights and advice to help your organisation prepare and manage the transformation from ACFI to AN-ACC with confidence.


8,000 visitors use our ACFI and AN-ACC calculator every month.
Try the AN-ACC Calculator
The Aged Care Funding Instrument (ACFI) will transition to the new Australian National Aged Care Classification (AN-ACC)
funding model on 1 October 2022.
We are committed to helping our clients through the transition by providing advice and tools to support you as you work through the implications to your business across finance, people, processes, data and systems.
Upcoming webinars
Transitioning pain management under AN-ACC
One of the key issues providers need to address with AN-ACC is pain management. We need to remember (1) There is no specific pain management claim under the AN-ACC model, and (2) Allied Health staff are not included in the care minute requirement. This webinar will explore the five key steps that can be taken to transition your 4b pain management program.
Thought leadership and past webinars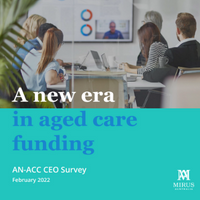 AN-ACC CEO Survey
The AN-ACC CEO Survey draws together the sentiments and readiness of aged care leaders towards the implementation of AN-ACC. The survey finds that there is a low level of preparedness for AN-ACC, concern from CEOs about the budgetary impacts, and little confidence that technology systems can meet the required deadline. Explore the survey findings of how CEOs are preparing for AN-ACC across people, process, systems, finance, and data.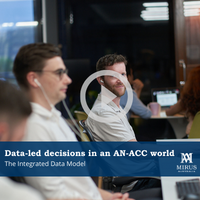 Data-led decisions in an AN-ACC world
Aged care providers will need to draw together workforce data, admissions data, and funding (Medicare) data in order to operate under AN-ACC. So, how do you ensure you have the data to support decision-making? The Data-led decisions in an AN-ACC world webinar explores the Integrated Data Model providers will need to know with the transition to AN-ACC. Watch the recording out now.
Where you are on the ACFI to AN-ACC transition?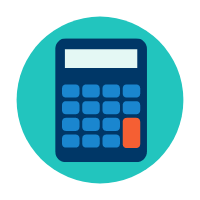 ACFI & AN-ACC Calculator
The Mirus AN-ACC Calculator will help support the transition from ACFI. The calculator is available free of charge to help you understand the impact on each of your residents.


Tools to help you prepare
Aged care reform insight
Stay on top of the latest insights, trends and news from the aged care industry
AN-ACC industry insights & tips