A new AN-ACC price for FY24 announced in the budget
May 12, 2023 | AN-ACC

By Tyler Fisher, Data Scientist
The Independent Health and Aged Care Pricing Authority (IHACPA) set the National Weighted Activity Unit (NWAU) price for AN-ACC subsidy from 1 July 2023. The announcement of the new price occurred as expected with the delivery of the Federal Budget handed down in Parliament by the Treasurer on Tuesday 9 May 2023. IHACPA's key role is to determine the annual national efficient price (NEP) and national efficient cost (NEC).
The new NWAU price of $243.10 has been increased to support the Fair Work Commission's decision on the Aged Care Work Value case.
The details are available on the department website here.
The new price for FY24 will add around 12% to the Average Daily Subsidy (ADS) for the industry. This will be offset by a 15% increase to the Aged Care Award which covers employees who fit within the classifications of the award. When we look at the cumulative increase to aged care subsidy and the aged care award from 2015, both have increased by 36%. By comparison CPI has only increased around 23% over the same period.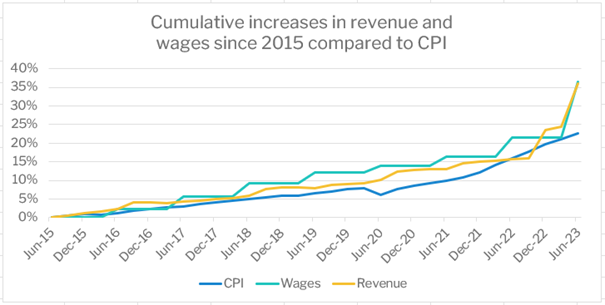 The history of indexation and CPI for Aged Care
A Consumer Price Index (CPI) measures changes in the price level of a weighted average market basket of consumer goods and services purchased by households. The CPI is a statistical estimate constructed using the prices of a sample of representative items whose prices are collected periodically. At Mirus Australia we have typically looked to the Consumer Price Index for an indication of changes to be applied to subsidies and charges with relative accuracy.
ACFI rates were once indexed by COPE which stands for Commonwealth Own Purpose Expenditure and many aged care providers still refer to rate changes as such. COPE was replaced with COPO (Outlays), which was (annual CPI % x 0.25) + (annual Safety Net Adjustment % x 0.75). Safety Net Adjustment is essentially a change to minimum wage which moves about the same as CPI.
A Social Services bill normalised many of the various allowances, pensions and support schemes and residential aged care subsidies on the pension indexation arrangements.