5 key steps to pain management in an AN-ACC world
March 31, 2022 | AN-ACC

By Shannon Sanderson, National Business Development Manager
With the introduction of the new AN-ACC funding model for residential aged care in October, there are many key issues that aged care providers need to address. One of these is pain management.
Firstly, let's remember two things:
There is no specific pain management claim under the AN-ACC model. This is incorporated into the increased funding assigned to the classifications with assisted mobility or not mobile branches and compounding factors.
Allied Health staff are not included in the care minute requirement – it is solely RN, EN and Care Worker/AIN.
At an industry webinar on March 18 2022, the Department of Health reinforced the view that effective pain management is a requirement in both the ACFI and AN-ACC world and is clearly covered by The Aged Care Quality Standards.  
We monitor more than 80,000 residents through our Benchmarking and Insights solution. Currently, 56.2% of residents in this pool are receiving a 4B subsidy however in accordance with ACFI Business Rules, it is likely the number of residents actively receiving 4B treatment is less than this. The 4B subsidy was designed to cover the cost of an Allied Health professional delivering a massage for 20 minutes, four times per week. This subsidy will cease on September 30 2022 and we caution Providers not to wait until then to consider the impact of this from a clinical, quality and financial perspective.  
When looking at options to manage a resident's pain needs, the first consideration should always be if the current treatment is effectively relieving the pain. In line with Standard 2 of the Aged Care Quality Standards, residents should be involved in ongoing assessments and planning that helps get the care and services they need for their health and well-being. A clinically led and evidence-based pathway should be implemented to review residents who are currently receiving 4B treatment.
The use of recognised and clinically appropriate pain assessment tools are vital. Whilst this can be challenging for residents living with dementia, the use of the Abbey Pain Scale or medical devices can help quantify pain in residents who are unable to articulate their pain. These residents should be given special consideration given pain is a leading cause in behaviours for residents with dementia.
To remove the 4B treatment without understanding or monitoring the implications for the resident opens the door to poor care outcomes and complaints.
There are many options other than massage that can effectively manage pain including heat, repositioning, TEN's Therapy and medication review. Some Providers are taking a holistic approach and implementing group exercise classes with the goal of improving muscular strength and balance. These classes have the additional benefit of fostering social interactions and addressing loneliness in residential facilities.
Research published by Bond University in 2016 Feasibility and benefits of group-based exercise in residential aged care adults: A pilot study for the GrACE programme — Bond University Research Portal noted: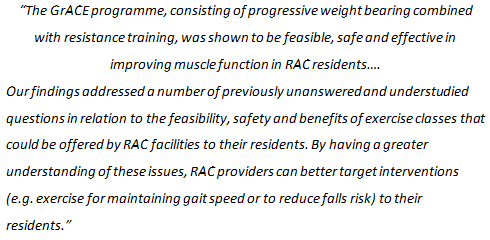 We have supported clients to undertake the review of their residents who are currently receiving a 4B treatment. The goal of the Mirus Pain Management Program is a review of residents to ensure they are receiving the most appropriate therapy to manage their pain with a promotion of a wellness approach. The results of these programs have included better care outcomes for residents and a significant saving on their Allied Health spend.
There are five key steps that can be taken to transition your 4B pain management program:
Identify – Analysis of care information to identify potentially suitable candidates to remove from 4B onto alternative.
Case conferencing – Discussion with care staff and allied health regarding the resident and suitability for other pain management.
Tracking – Managing the transition of residents from 4B onto alternative solutions.
Innovation – Trial of alternative methods of pain management including group classes.
Compliance – Circle back after 2-3 months to check care information to ensure pain is being managed.
Pain management and physiotherapy are required therapies as part of a care plan in Australian Aged Care and will continue to be after AN-ACC commences. The available alternatives to the 4B programs currently widely employed are numerous and the transition can be managed well.
For more information on how to start this journey in your organisation, please do not hesitate to contact us.
Resources on managing pain in residential care:
Pain in Residential Aged Care Facilities: Management Strategies, 2nd Edition – Resources