By Shannon Sanderson, National Business Development Manager
On 22 November the Dept of Health published the "Care Minutes and 24/7 Nursing Requirements Guide".
Most of the information was not new, however there was one item in the introduction that was worth noting. It's a phrase we should expect to hear more frequently in the lead up to 1 October 2023, when Care Minute Targets become mandatory.
1.3 Care Obligations
Care minutes establish a minimum standard of care (by RNs, ENs and PCWs) that is required to be provided to residents from 1 October 2023. Approved providers remain responsible for ensuring they have sufficient staff on duty to always meet the care needs of residents, as required by their obligations under the Aged Care Act 1997 (the Act) and the associated Aged Care Quality Standards (Quality Standards).
What this information is confirming is that a facility's care minute target is the minimum standard the facility will need to meet whereas their care obligation is to their current group of residents.
Providers here have two masters:
The Dept of Health and the Care Minute Targets which are based on the care delivered in the previous quarter
The Quality and Safety Commission and the care obligations to their current residents.
What does this look like in practice?
Providers will need to be planning, tracking and reporting on care minute targets to make sure they are meeting this requirement. The planning and tracking are just as important as reporting of your care minutes. In February, providers will be reporting on this current quarter's care minutes – this is not the time to find out that targets were not met in November.
Providers will also have to roster to meet the care needs of their current residents. The easiest way to do this will be to have visibility of these resident's care minute requirement at the time you are rostering. A good rostering platform will support this capability.
To further illustrate this point, consider new residents entering your facility. Below is another extract from the Dept of Health "Care Minutes and 24/7 Nursing Requirements Guide"
4.4 Calculation of quarterly targets
A service's care minutes target for a quarter will not change after it is assigned, even if the service's resident casemix changes. The care minutes target for a service is only updated at the start of a new quarter.
4.4.1 Exclusion of Default Classes From Calculation
A new resident will receive a default class pending assessment and classification under AN-ACC. If a resident has a default class at the time the quarterly targets are calculated, they are not included in the calculation of care minute targets for that quarter, even if their class later changes or is backdated. Once the resident's AN-ACC or respite class is assigned, they will be included in future care minute targets calculations.
Let's look at a timeline comparison.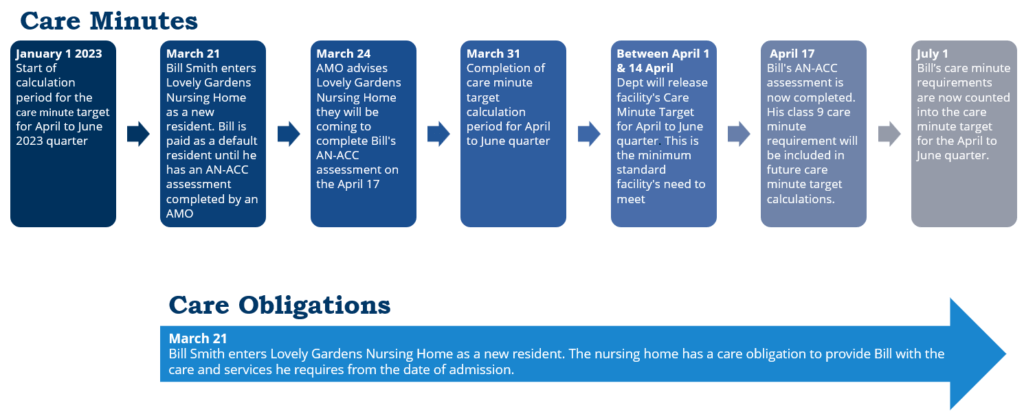 Our technology solutions Mirus Metrics and Mirus Works will provide you with the data, planning, tracking, and reporting requirements you need to comply with both care minutes and care obligations.