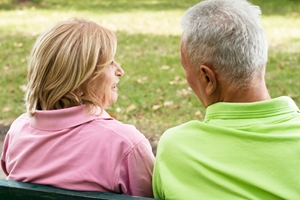 Carers are an essential part of Australian society, supporting aged care residents along with those who have a disability or mental illness. Carers Week 2014 has been launched to recognise the efforts of this vital workforce.
Assistant Minister for Social Services Senator Mitch Fifield and His Excellency General The Honourable Sir Peter Cosgrove launched the event on 14 October in Sydney.
Carer​s Week 2014
Recognising the efforts of carers is important, including those who look after elderly Australians at home and in residential facilities.
Carer Week is about focusing solely on carers​, whether they're employed by a facility or taking on the task at home.
"Almost 2.7 million Australians fulfil a caring role. Carers Week is a great time to stop and reflect on the role carers play in our society," Senator Fifield said.
This event runs through to 18 October and includes a number of events across the country, including morning teas, fundraisers and workshops.
"We are committed to ensuring carers have the support they need and that the immense contribution they make is recognised," Senator Fifield explained.
Promoting a strong carer workforce
Australia is set to see an increasingly ageing population over the next few decades, with the Treasury announcing that every State and Territory will see significant ageing through to 2040.
Of course, this is something that requires the appropriate planning now, in order to effectively handle growth in the future.
Aged care facilities can play a significant role in this preparation by expanding facilities to meet demand and support the ongoing training of staff. In turn, this will help ensure a strong and capable workforce is developed.
These types of training should become a part of provider financial strategies and entrenched in the ongoing efforts of facilities devoted to assisting the elderly.
Failure to prepare now could result in an undersized and undertrained workforce that's unable to service the needs of older Australians.
Conclusion
Carers are going to continue to be a necessity for the Australian population, especially as the number of elderly climbs. This workforce will mean these Australians are properly cared for in facilities across the country.
Now is the perfect time for aged care providers to begin planning for future facility growth and ensuring that their carers and staff are appropriately supported.
What do you think are the biggest opportunities for success in the aged care industry today? Please contact us and let us know!