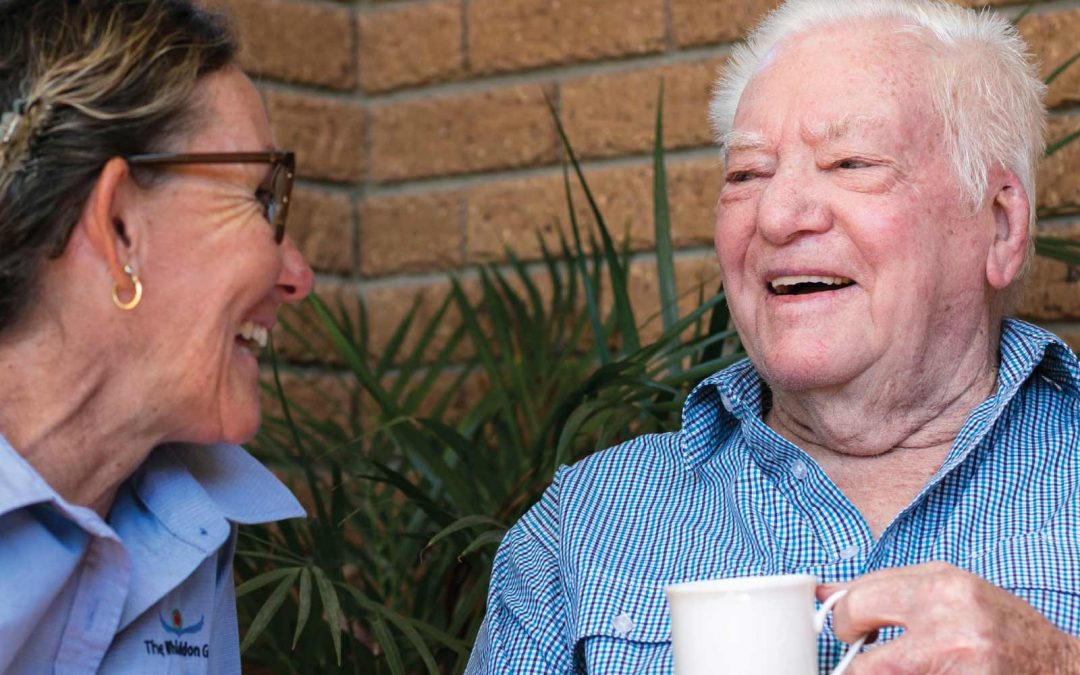 Celebrate Australia's unsung heroes with Aged Care Employee Day on 7th August 2018. It's an official day to thank, honour, recognise and celebrate the hundreds of thousands of people who work in the aged care industry across Australia. On August 7th, reach out to those who you know that work in this valuable industry and help recognise the incredible contribution they make to the lives of older Australians.
What is Aged Care Employee Day?
Aged Care employees make a huge difference to the lives of others every day. Aged Care Employee Day is designed to celebrate each and every team member involved in the journey of caring for people who receive aged care services – from the nurses and care workers, to the cooks and hospitality teams, to the drivers, cleaners and laundry employees, to the volunteers, to the leisure and lifestyle officers and administration teams.
Through their work, these people often develop meaningful relationships with our older loved ones – becoming defacto family members in the process. Their dedication to what is a rewarding, yet often challenging, profession in which they devote themselves to caring for others sets them apart.
Aged Care Employees Day puts these heroes in the spotlight, celebrates them, and highlights the many different roles of those involved in the aged care journey.
How did Aged Care Employees Day start?
Aged Care Employee Day is an official day, registered with awarenessdays.com. The concept was created by our friends at Whiddon, an Australian not-for-profit aged care provider. For a long time, the team at Whiddon had felt that some of most unsung heroes in the community were aged care employees.
How can you get involved?
There are so many ways to get involved and show your support for aged care employees. It all begins with raising awareness of the valuable role this workforce plays in our society, and can be as simple as saying 'thank you for making a difference' on August 7th.
For individuals:-
Spread the word – let your friends and family know that a new national day has been created for this special group of people!
Take a moment to say thank you – if you know someone who works in aged care, or if a family member or friend is cared for by an aged care employee, say thanks and let them know how much you appreciate what they do.
Share a positive story – post a story or a photo sharing a story on social media about an aged care employee who has helped you or a loved one using #AgedCareDay
For aged care organisations:-
Celebrate your whole team – whether it's a special lunch on the day, a small treat as a gesture of how much you appreciate them, or a poster and flyer raising awareness of the day – Aged Care Employee Day is about recognising and celebrating the people within this industry.
Spread the word – let your team know about the day, share the initiative on social media, create a poster and raise awareness of the day that has been created just for them.
Let your local media know – if you're celebrating the day in a big way, let your local paper know about what you're doing.
Share a positive story – post a story or a photo sharing a story on social media about an aged care employee who has helped you or a loved one using #AgedCareDay
Ideas for celebrating Aged Care Employee Day with your team
• A meaningful thank you
Sometimes saying a heartfelt thank you goes a long way. A letter from your Director or Chief Executive to each employee to thank them for the incredible work they do, or a card for each team member from their manager – just to say thanks!
• A sweet treat
Invite your local coffee van along to your celebrations, order a delivery of fresh donuts or create an impressive dessert or lolly bar and give your staff some sweet treats to enjoy the day!
• Wellness and Spa Day
Host a wellness day and treat your staff to picnic lunch, masseuse visit or a meditation or yoga session! Help them to relax, unwind and feel special.
• Lazy lunch on the lawn
Get the team together and order in a delicious feast of something healthy or a treat – pizzas, a salad bar, whatever is available in your local area. Enjoy your feast together as a team as you celebrate. Treat your staff further with an ice-cream or treat delivery after lunch!
• Celebrate night staff or remote workers
We know that not everyone can be there in person for the above ideas. One option is to recognise
your remote or night shift employees with a small gift that is available to them when they work next – a small treat, a personalised chocolate freckle, hand creams, bath salts etc.
A big thank you!
To all aged care employees, we thank you and honour you on Aged Care Employees Day on 7th August. This day is for you, to celebrate the incredible work you do, and to show you just how much you make a difference to the lives of older people.
For further information, ideas and resources visit http://www.agedcareday.com.au
Images courtesy of http://www.agedcareday.com.au