Foundations of the new rights based Aged Care Act
September 8, 2023 | Aged Care Reform

By Katie Airey, Quality, Risk and Compliance Lead
On 1 August 2023, the Department of Health and Aged Care (DoHAC) facilitated a webinar on the Foundations of the new Aged Care Act with the consultation process occurring between 4 August 2023 and 8 September 2023.
The proposed new Aged Care Act (Act) will be rights based; it is proposed that the Act will include a new Statement of Principles along with a new Statement of Rights and will form the overarching legislation to support the new regulatory model for aged care services in Australia.
The new Act will replace the existing Aged Care Act 1997 along with the Aged Care Quality and Safety Commission Act 2018.
Proposed Foundations of the Act
Below is the summary of changes between the current legislation and the proposed framework of the new Act – highlighting five key areas.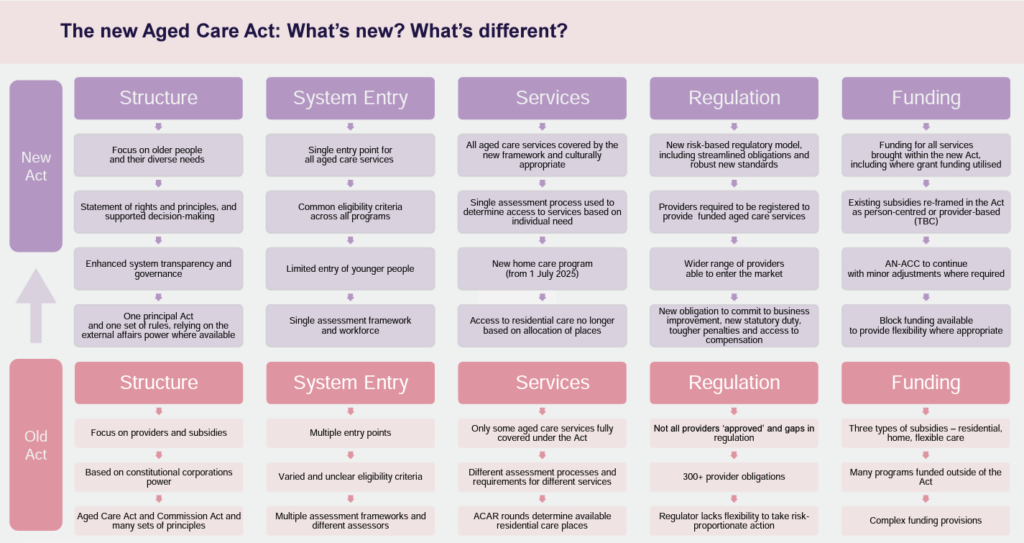 Structure & Constitutional foundation
As the new Act will be rights-based, it differs from the current Aged Care Act 1997 which is structured around approved providers and how they are funded. The new Act aims to be person-centred and relies on international conventions such as the Convention on the Rights of Persons with Disabilities and the International Covenant on Economic, Social and Cultural Rights. This will allow a wider range of businesses to enter the market where only limited funded services have previously been available.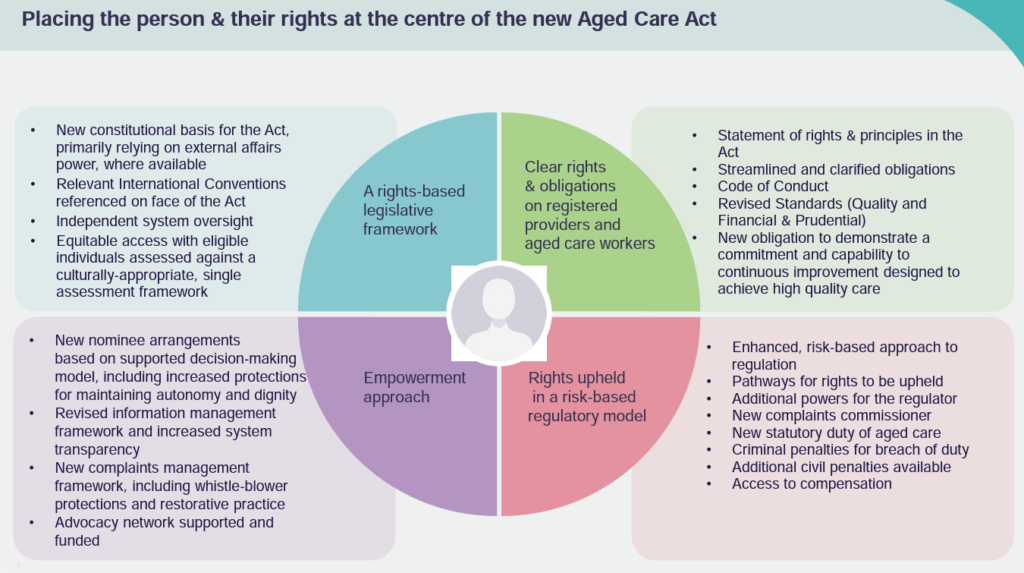 Under the new Act, older Australians will be better supported to gain access to funded aged care services allowing older people to live active, self-determined and meaningful lives. This Act will also support a culture change across the sector with promotion of innovative initiatives based on research that support continuous improvement.
Statement of Rights
The new Statement of Rights will be the centrepiece of the new Act. It aims to be both symbolic and practical as it outlines specific rights  of people seeking and/or accessing funded aged care services. Currently, it is proposed to include 16 rights, which have been developed based on the current Charter of Residents Rights, recommendations from the Royal Commission as well as suggestions from stakeholders.
The Statement of Rights will also be complimented by the Statement of Principles.
Statement of Principles
The purpose of the Statement of Principles differs from the Statement of Rights, in that it is intended to guide the decisions, actions and behaviours of everyone operating in the aged care system. It is proposed that the Statement of Principles will include 15 principles including two key principles:
To ensure the safety, health and wellbeing of people receiving aged care and
To put older people first so their preferences and needs drive the delivery of care.
High Quality Care
Under the new Act, there will be a definition of high-quality care. This is to ensure the aged care system puts older people first and focuses on characteristics of care rather than specific outcomes.
It is proposed that high quality care will be defined as delivery of aged care services to a person who has been granted access to subsidised aged care services in a manner that:
delivery of funded aged care services with compassion and respect for the individual, their life experiences, self-determination and dignity, and their quality of life
providing funded aged care services that are trauma aware and healing informed
providing funded aged care services that are responsive to the person's expressed personal needs, aspirations, and their preferences regarding the manner in which services are delivered to them
facilitating regular clinical and non-clinical reviews to ensure that the services and supports delivered continue to reflect their individual needs
supporting the person to enhance their physical and cognitive capacities and mental health and
supporting the person to participate in cultural, recreational, and social activities, and remain connected and able to contribute to their community.
By defining what high quality care means, the system can ensure that there is no place for substandard care and that high quality care becomes the norm as the system matures.
New Duty of Care & Compensation Pathways
As recommended in the Royal Commission, the new duty of care will be modelled on the work, health and safety duty outlined in section 19(1) of the Work Health and Safety Act 2011 (WHS Act). This new duty will focus on ensuring providers take reasonable steps to avoid actions which may pose health and safety risks to people in their care; recognising that responsible persons of registered providers as well as aged care workers, both have influence and responsibility of outcomes of people who receive care.
It is proposed that penalties may be applied where a breach of duty has been identified. It is intended that penalties will be tiered and will be outlined in the new Act; applicable penalty units are yet to be determined.
The new compensation pathway is aimed to complement existing compensation arrangements for personal injury, and it is proposed that it would be limited to breaches by a registered provider, where their actions have resulted in serious illness or injury to an older person receiving care.
Whistleblowers
The new proposed changes aim to broaden the whistleblower protections in line with the protections under the NDIS Act and Corporations Act. Under the proposed scheme, a broad range of people will be able to make a disclosure including:
aged care workers
responsible persons and governing persons of registered providers and
older persons who access funded aged care services along with their carers, family members and advocates.
The below image sets out the requirements for making a qualified disclosure, along with who a disclosure can be made to.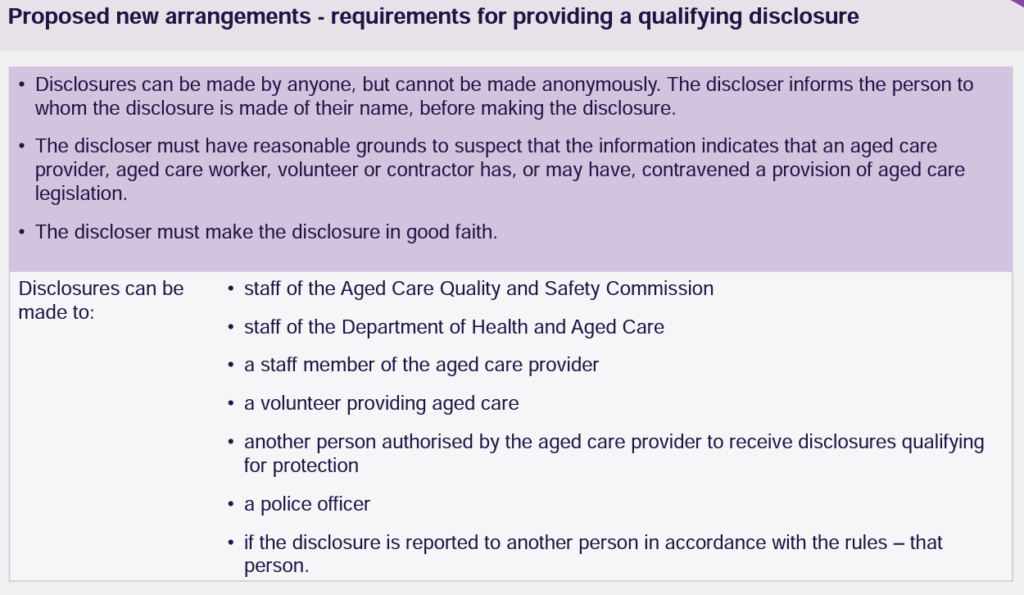 Whistleblowers will have protections that include:
Civil liability
Criminal liability
Contractual or other remedy and
Administration liability.
These protections aim to protect whistleblowers from any retribution. The current victimisation protections will also be retained in the new Act. In addition, the new Act will require registered providers to have an internal whistleblower policy which encompasses guidance for both whistleblowers along with people receiving disclosures.
Supported Decision Making
The new Act will provide opportunity to clarify the role of legal representatives and their responsibilities, with the aim to ensure people maintain their cognitive abilities to support autonomy and self-determination.
Under the new Act, there will be two types of nominees – supporter and representative.
Supporter is a person who is able to provide support to an older person to navigate the aged care system. They will not have any authority to make decisions in relation to the new Act on behalf of the older person. They will be able to receive duplicate information with consent from the older person and support the older person to communicate their choices and decisions.
Representative is a person who can do any actthat an older person may do, on their behalf for purposes related to the new Act. This includes making decisions on the older persons behalf.
The appointment method for both supporters and representatives is outlined below.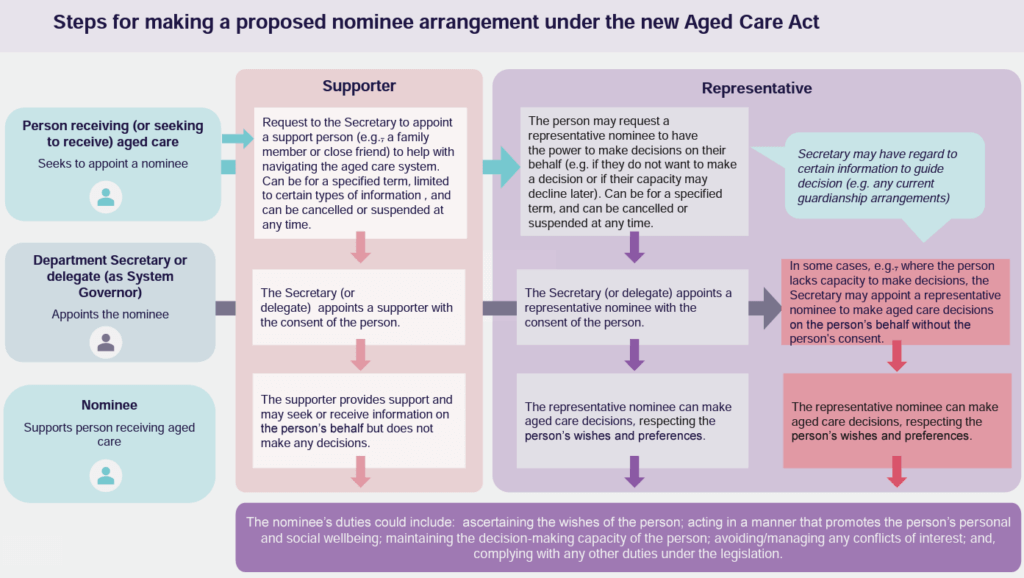 The new Act will also encompass decision making principles and duties which supporters and representatives will need to adhere to.
Eligibility for funded services
System entry will be simplified by having a common entry point for access and a single assessment framework. The process will include an initial application & initial eligibility testing followed by an individual needs assessment which will result in an approval decision and, if successful, a grant of access.
The eligibility threshold criteria will include:
Individuals aged 65 and over who have care needs such as:

Have difficulty undertaking activities of daily living and/or
Require assistance of an aid(s) or help from another person to maintain their physical, psychological or social capacity to function independently.

Individuals under 65 years of age (applies only to specific cohorts):

Where a person is 50 – 64 years old and is either:

a First Nations person or

is homeless or at risk of homelessness.
In addition, young individuals will need to have:
Been informed of alternative options and
Express that entering aged care services is their preference based on an informed decision (The Act will not require documentation evidence of alternative options being provided to establish this)
As a result, no other younger people will be able to gain access to funded aged care services, in order to ensure the system is used to support older people as intended and to prevent the system being used inappropriately.
Consultation on the proposed foundations on the New Aged Care Act closed on 8 September 2023.
Providers can use these foundations as a basis for transitioning their current policies, procedures and practices to the new model. The Mirus Quality team can support your organisation throughout the transition – contact us to find out how.