July period saw continued growth in overall Average Daily Subsidy (ADS)
Rob Covino presents Mirus Industry Analysis (MIA), insights into the previous month's key performance indicators across the not-for-profit, private providers, and the cumulative industry trends from the 89,000+ beds the Mirus Australia team currently monitors for financial sustainability.
The July period saw continued growth in overall Average Daily Subsidy (ADS) and an added boost of 1.1% CPI to the new unit pricing allocated by the ACFI. With that, the industry ADS jumped $2.56 across the $190 ADS range and settled at $190.38. The Not-for-Profits (NFP) increased $2.57 to $187.29, and the Private operators increased about the same to a higher base of $197.24.
With the ongoing lockdown within our major cities, and family sentiment favouring respite and home care options rather than permanent entry, occupancy levels continued to slide.
As the formula of revenue is often explained as Rate (ACFI ADS) x Volume (Occupied Bed days), we can see the financial performance was maintained by the Rate growth achieved in July which helped offset the decrease in Volume.
Workforce and wage management is proving to be logistically challenging for Providers to keep control of during these times. With staff being excluded from working across sites due to COVID restrictions, and further staff requiring to self-isolate from the health orders which apply to them, overall Care mins dropped (-6%) down to 152.7 mins delivered on per-bed-per-day-basis.
---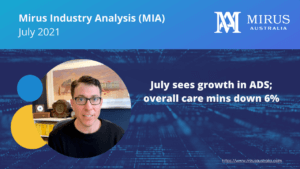 Download a PDF of our data slides to use in your own presentations.
Get insights for your own organisation against the industry data
Benchmarking & Insights allow you to compare your Average Daily Subsidy (ADS) to the industry average. You will also gain valuable insights into your ACFI/AN-ACC claiming activity and benchmarking to support your occupancy, revenue, and workforce strategies. What's even better, is that it's free.
Click here to benchmark your facility today.
About Mirus Industry Analysis (MIA)
We love numbers and we love data! With one of the largest Aged Care databases in Australia, each month we bring you MIA – a monthly wrap up of insights captured from data covering 89,000+ beds.
Please contact us if you have any questions about this edition.