The foundation of compliance is organisational governance
September 8, 2022 | Quality

By Katie Airey, Quality, Risk and Compliance Lead
With the transition from ACFI (Aged Care Funding Instrument) to AN-ACC (Australian National Aged Care Classification) being front of mind for many providers, it is important that compliance does not take a back seat but remains a focused priority.
The most recent sector performance report January – March 2022, shows a continued trend in non-compliance across Standard 3, Standard 8, Standard 7, and Standard 2. 
Click on image to expand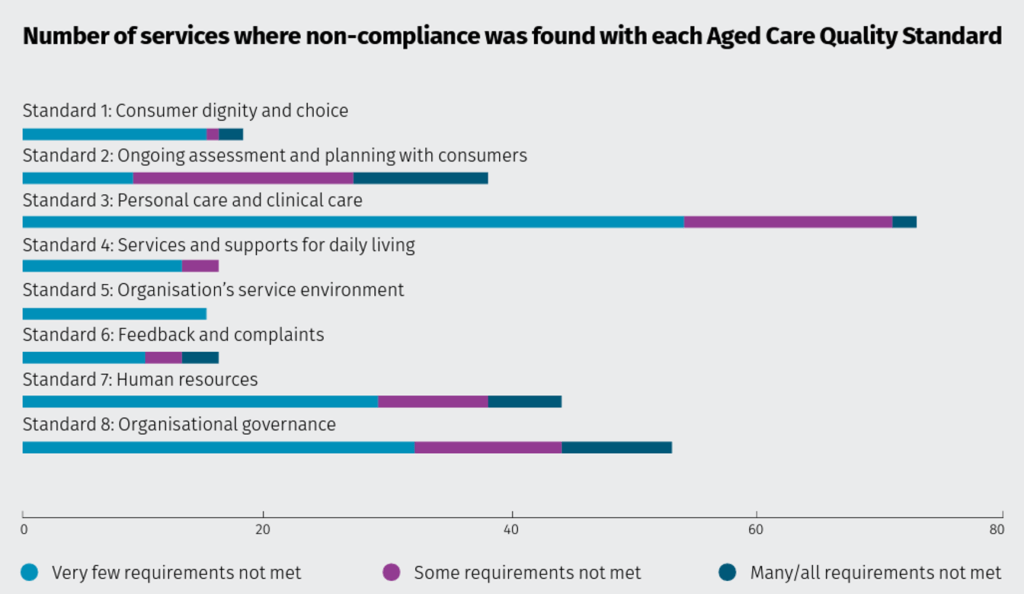 Image: Aged Care Quality and Safety Commission Sector Performance Report January – March 2022.
With the previous sector performance report October – December 2021 showing similar findings across the standards: 
Click on image to expand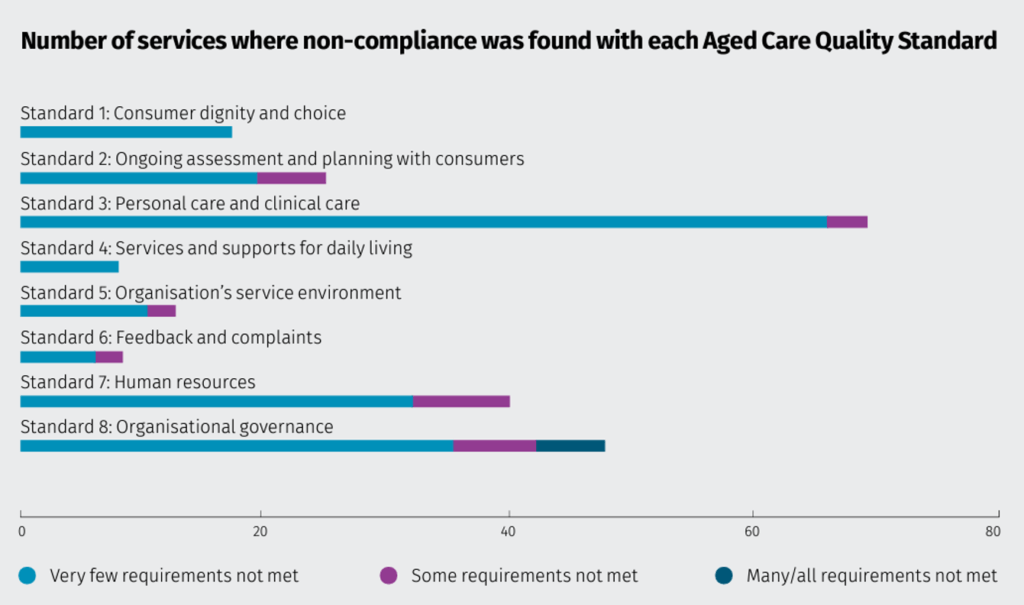 Image: Aged Care Quality and Safety Commission Sector Performance Report October – December 2021.
Requirement 3(3)a Safe and effective personal and clinical care has been found the top-ranking non-complaint requirement for the past two years.
Demonstrating compliance across each requirement
The foundation of compliance is organisational governance, which encompasses operational systems and processes that support the organisation to take a proactive approach to improve consumer outcomes and ensure compliance to legal obligations.  
Under Standard 8, providers are required to have effective organisation-wide governance systems related to:
Information management  
Continuous improvement  
Financial governance 
Workforce compliance  
Regulatory compliance 
Feedback & complaints  
Risk management 
Clinical governance 
So, where do providers start?
The key principles that promote governance excellence include;
Clear roles & responsibilities
Accountability
Culture and ethics
Engagement
Transparency
Structure & purpose
All providers will be at different stages of embedding changes to organisational governance into their daily operations and responsibility structures.
Why have policies and procedures?
Policies and procedures support the organisation to move towards its strategic goals, while minimising and managing risks.
Sound operational policies and procedures should;
Be easily accessible to your workforce & stakeholders
Form part of your training and competency framework
Be trialed and tested for practicality
Be reviewed, evaluated and updated frequently as part of your continuous improvement process
In simple terms, organisational policies & procedures should form a solid control for risk mitigation.
Support is always available by partnering with independent experts to undertake key risk audits and data analysis. The addition of wider industry views to your own organisational experience should be seen as an essential component in the development of well-integrated compliance systems.
Ready to improve your organisational compliance?