Strengthening provider governance and compliance
December 22, 2022 | Aged Care Reform

By Taranjot Minhas, Consultant
We've talked about organisational governance in the past as a foundation of compliance, which encompasses operational systems and processes that support the organisation to take a proactive approach to improve consumer outcomes and ensure compliance to legal obligations (see earlier blog on Organisational Governance & Compliance)
Newly strengthened provider governance requirements for all approved providers (from 1st December 2022) are the latest addition to a long list of reforms in aged care industry – including AN-ACC, Star Ratings, Quarterly Financial Reporting, revised Quality Standards, the new Aged Care Act, and a new Code of Conduct.
Recent changes to legislation
The Aged Care Act 1997 and Aged Care Quality and Safety Commission Act 2018 have been amended to strengthen the governance arrangements of approved providers. These introduce specific changes aimed at:
improving leadership and culture
increasing transparency and accountability.
The new responsibilities align with, and are in addition to, the organisational requirements in Standard 8 of the Quality Standards as well as elements of Standards 6 and 7. They apply to approved providers of residential, home and flexible care including short-term restorative care, multi-purpose services and transitional care.
What's new?
The main requirements are outlined below:
Membership of governing bodies – ensuring the right mix of members with diverse skills, experience and expertise
Advisory bodies – obligations to establish a quality care advisory body and a consumer advisory body to support and inform the governing body
Suitability of key personnel – due diligence requirements in gathering information and assessing your staffs' ongoing suitability
Notifying the Commission of certain matters – changes that impact your suitability, and any changes to key personnel, must be reported to the Commission within 14 days of the change
Staff qualifications, skills and experience – governing bodies need to make sure staff members have the appropriate skills, qualifications and experience necessary to fulfil their duties AND have development opportunities that support and build provider capability.
Provider's constitution – if an organisation is a wholly owned subsidiary, governing bodies need to make sure the organisation's constitution prioritises its consumers (not the holding company)
Information about a provider's operations – governing bodies will need to submit annual information to the Dept about your operations
For full details on each of the requirements, please visit Department's page on Strengthening provider governance.
The most recent sector performance report for July-September 2022, shows a continued trend in non-compliance across Standard 3, Standard 8, Standard 7, and Standard 2.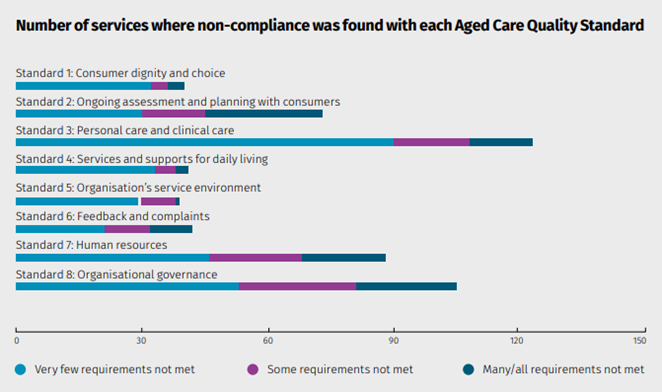 Requirement 3(3)(a) Safe and effective personal and clinical care has been found the top-ranking non-complaint requirement for the past two years. Of note are also the below Requirements – all relating to organisational governance and human resources which are now supported through strengthening provider governance requirements:
8(3)(c) – Effective organisation wide governance systems – including information management, continuous improvement, financial governance, workforce governance, regulatory compliance, and feedback & complaints
8(3)(d) – Effective risk management systems and practices – including managing and preventing incidents
8(3)(e) – Clinical Governance Framework – including antimicrobial stewardship, minimising restraints, and practicing open disclosure
7(3)(a) – The workforce is planned to enable, and the number and mix of members of the workforce deployed enables, the delivery and management of safe and quality care and services
7(3)(d) – The workforce is recruited, trained, equipped, and supported to deliver the outcomes required by these standards.
Revised Aged Care Quality Standards – Standard 2
In response to the Royal Commission into Aged Care Quality and Safety's recommendations, the Australian Government is urgently reviewing the Aged Care Quality Standards. Standard 2: The Organisation in the Revised Aged Care Quality Standards draws on Standards 6, 7 and 8 from the current Quality Standards, and aims to strengthen focus on accountability and quality systems, workforce planning, and emergency and disaster management. This change fits well with the broader emphasis on an improved quality and safety culture, and an effort to move away from compliance culture.
Standard 2 in these Revised Standards will:
Hold governing bodies accountable
Ensure governing bodies promote a culture of quality and safety
Ensure governing bodies drive and monitor improvements to care and services
Ensure governance systems and workforce are delivering safe, quality, effective and person-centred care
Strengthened provider governance requirements will align directly with:
Outcome 2.3 – Accountability and quality systems – including governing body is accountable for the delivery of safe and quality care and services and maintains oversight of all aspects of the organisation's operations
Outcome 2.8 – Workforce Planning – including workforce strategy implementation to ensure suitable numbers, qualifications, and competencies of workforce
Outcome 2.9 – Human Resource Management – including maintaining, implementing, reviewing and monitoring training systems
So, where do providers start demonstrating compliance across each requirement?
The key principles that promote governance excellence include;
Clear roles & responsibilities
Accountability
Culture and ethics
Engagement
Transparency and
Structure & purpose
Where do we start?
Consider all key personnel against the "suitability matters" at least every 12 months
Keep records of the matters considered (make sure your records comply with the Accountability Principles 2014)
Identify and inform your key personnel of their obligation to notify the provider of changes to their "suitability matters"
Have processes in place so key personnel can report (within 14 days in writing) if they have changes regarding their suitability, as well as in the event of a material change
Lodge required information and statement of compliance annually (first reporting period 1 July 2022 to 30 June 2023). Ensure you meet the first submission deadline of 31 October 2023
Ensure the majority of governing body members are independent and non-executive. Include one member with experience in the provision of clinical care in your governing body.
Establish and ensure continuation of a quality care advisory body. Offer to establish (at least once every 12 months) a consumer advisory body (or multiple bodies).
Ensure the quality care advisory body provides six-monthly reports about the quality of aged care that the approved provider provides through each aged care service.
Require the governing body to consider the quality care advisory body AND consumer advisory body reports and feedback when making decisions in relation to aged care.
Make sure the governing body advises the quality care advisory body AND consumer advisory body in writing about how their feedback was used/considered.
Ensure staff have appropriate skills, qualifications or experience to provide the care and services they are hired to.
Give opportunities to develop your employees' capability to provide services
Make sure that your constitution requires directors to act in the best interests of consumers (only applicable if your service is a wholly owned subsidiary of another body corporate that is not an approved provider).
Policies and procedures support the organisation to move towards its strategic goals, while minimising and managing risks.
Sound operational policies and procedures should:
Be easily accessible to your workforce & stakeholders
Form part of your training and competency framework
Be trailed and tested for practicality
Be reviewed, evaluated and updated frequently as part of your continuous improvement process
Be sure to keep your organisation's workforce educated on the changes, and adapt your strategies, policies, and procedures to ensure these strengthened provider governance requirements are being met.
Support is always available by partnering with independent experts to undertake data analysis, and key risk and systems audits. The addition of wider industry views to your own organisational experience should be seen as an essential component in the development of well-integrated governance systems.
Tags