By Katie Airey, Quality, Risk and Compliance Lead
According to Mental Health Australia in 2019, 45% of newly admitted aged care consumers have symptoms of depression, as did 52% of all permanent consumers. Since this data was released, residential aged care consumers have been subjected to increased isolation due to the COVID-19 pandemic.
In addition, consumers residing in residential aged care homes have an increased risk of developing depression and/or anxiety, often due to:
Increased physical health problems / conditions e.g. Stroke, Alzheimer's Disease
Chronic pain
Medication side effects
Loss of independence, relationships, mobility, access to community groups etc.
Social Isolation
Identifying depression and anxiety before entering care
Everyone is different, understanding how consumers feel about entering a residential aged care home is an important step in determining how your organisation can best support each individual. Providers should consider mental health screening for consumers prior to entry, using tools such as the Geriatric Depression Scale (Short Form) or the Cornell Scale for Depression in Dementia.
By identifying signs and symptoms of depression and anxiety early, organisations can ensure consumers entering care are well supported during the transition and into the future.
Click on image to expand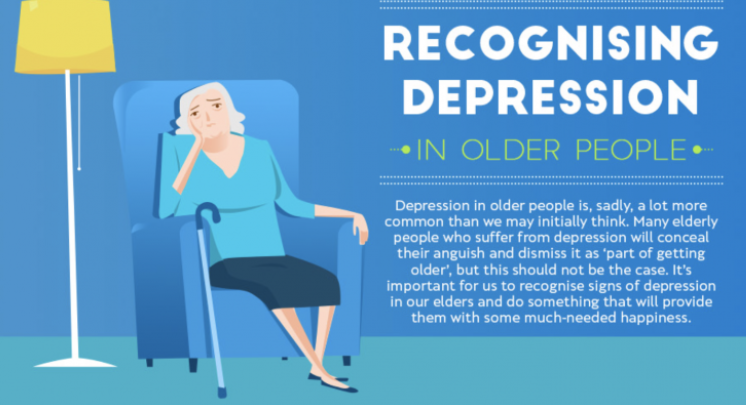 How to start the conversation with consumers
Starting a conversation is the first step in understanding if a consumer is experiencing depression and/or anxiety. These conversations can be difficult for both your workforce and the consumer. Opening a discussion by expressing support and concern can improve the likelihood of a consumer discussing how they are feeling.
To get you started here are some helpful conversation starters:
'I can see this is a really hard time for you'
'I know it doesn't feel like it now, but there is hope that things can get better'
'What can I do to help? Just tell me how'
'I'm here for you'
6 organisational steps towards improvement
Aged care providers should continue to improve support and services for consumers and aim to truly understand each consumer's needs. Here are 6 steps you can use in your organisation:
Ensure your organisation has effective clinical governance and education programs which embed ongoing support and training for your workforce.
Provide your team opportunity to scope innovative solutions to meet the needs of consumers.
Source best practice guidelines and encourage knowledge sharing within your team.
Utilise community supports such as Beyond Blue.
Invest in lifestyle programs and community engagement programs.
Provide an inviting, homely and comfortable environment.
Starting conversations with consumers can be challenging, there are tools and support available to organisations, workforce members and consumers. If you would like to learn more, get in touch with us! Together we can make aged care better.
Further resources:
Quality, Risk and Compliance Services