By Tom Murphy, General Manager of Product and Operations
As with many OECD countries, Australia has an ageing workforce. Whilst employers benefit from this wealth of experienced employees, retaining and keeping this cohort engaged requires a different approach to workforce management.
This ageing workforce is acutely felt In the Aged Care sector where the average age of a worker is 48, compared to 40 across all sectors. This means Aged Care has the 1highest average worker age of any industry and it's a trend that is set to continue. A recent report from the Committee for Economic Development of Australia (CEDA) also identified the sector has a 65,000 worker deficit to address every year. Retention is vital.
Click on image to expand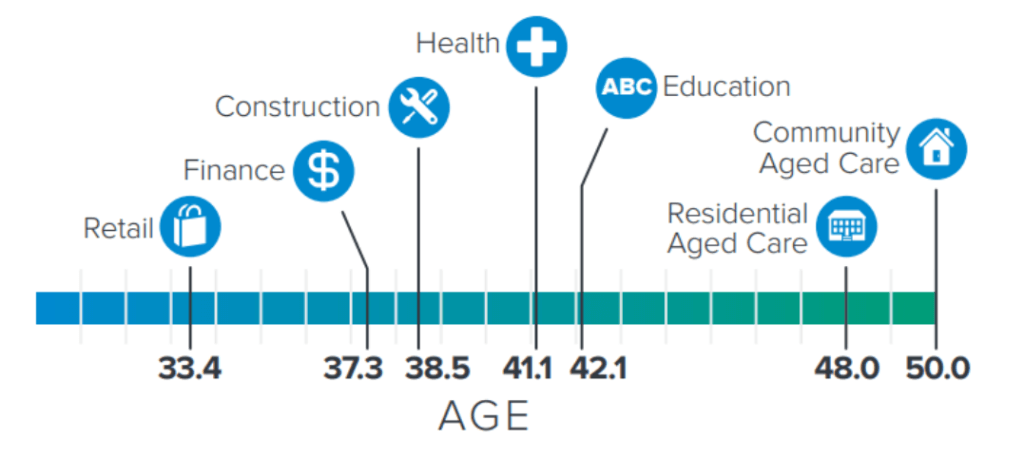 Source: 1McCrindle: The aged care puzzle
From Baby Boomers to Gen Z, the aged care workplace has evolved, and it's highly likely four or five generations of employees will be clocking on to the same shifts. This presents the potential for intergenerational conflict around values and expectations – cue 'entitled' Millennials facing off against 'set in their ways' Baby Boomers. However, through inclusive workforce strategies, there is also an opportunity to better utilise the diversity of this multi-generational workforce.
How can employers tap into this talent pool of older workers and take advantage of their expertise as they seek to retain and grow their workforces?
1. Utilise experience and plan for the future
It's inevitable that 19% of the Australian workforce will reach retirement age in the next 10 years. Applying that to the aged care sector where there is a disproportionate number of workers over 55, succession planning is critical. Reviewing the demographics of your workforce turnover, including age and length of service, position, and reason for leaving will provide valuable insight to help with future resourcing needs and ensure skills and knowledge can be retained.
Click on image to expand

Mirus Works turnover reporting sample
Mentoring programs are one way to facilitate the transfer of skills, and also support retention. 3 A December 2019 report from the Centre of Excellence in Population Ageing Research (CEPAR) shows incentivising employees to "engage in mentoring" also helps with retention. Most importantly, initiating a mentoring program ensures skills and experience can be passed between younger and older workers. To supplement this, and to support a healthy workplace culture, training and support on how to manage and contribute to multi-generational teams is important.
Choosing a rostering platform that can help you consistently plan rosters that incorporate skill mixes and blended experiences, not only facilitates a mentoring program but also promotes continuity of care.
2. Considering workplace design
There are many ways employers can help to create an environment which is inclusive of older workers. Working longer is also inevitable, as demographic trends indicate we will need more Australian's working to support. It is important then to make concessions that support the health of an older worker.
This may look like updating your organisation's career pathways and creating new roles that better utilise their experience and, better yet, keep them engaged. It might also be providing flexible employment opportunities and offering job-share arrangements, including phased retirement.
Beyond the physical space that employees work in, and hours worked, the workplace extends to the IT systems that keep it running. In addition to deploying easy to use and best of breed solutions, re-skilling older workers around technology may relieve anxiety around adopting new platforms. And increasing use of online training allows more mature workers to study in an environment and at a time that suits them.
Consider whether your Employee Value Proposition (EVP) is supportive of your organisation's branding, specifically workplace culture you aspire to. Bryan Adams, CEO of Ph.Creative describes an EVP as articulating the "give and get" of an organisation's relationship with its employees. With Aged Care vying for scarce resources against hospitals and NDIS providers, more than ever, competition for talent is high so developing an inclusive EVP will help your brand 2stand out in the marketplace. For an EVP to be compelling, it should be employee-centred and aligned with the wants and needs of the existing workforce, as well as a prospective worker.
For our older workers, the 3December 2019 report from CEPAR shows that flexibility is important. Workforce practices that allow employees to reasonably change when and where they work would be less likely to leave. Incidentally, this flexibility will provide greater agility when thinking about planning a roster in support of care minute targets.
When considering tools that employees will utilise, easy to use systems that support autonomy and flexibility should be front of mind. The Mirus Works employee app allows employees to easily manage how and when they work, including setting availability as well as bidding for shifts.
In summary, the challenges of managing an ageing workforce, when viewed differently, present more opportunities for increased engagement, retention, and workplace efficiency. Employers who adapt and implement strategies that leverage this cohort will reap the benefits of increased productivity now and into the future.
To find out how Mirus Works could help you think differently about the challenge of managing an ageing workforce, contact us!
References
1Make Your Employer Brand Stand Out in the Talent Marketplace
2 Make Your Employer Brand Stand Out in the Talent Marketplace
3 Maximising Potential: Findings from the Mature Workers in Organisations Survey