Educating your team on the AN-ACC assessments
June 16, 2022 | AN-ACC

By Shannon Sanderson, National Business Development Manager
Remember when you learnt to drive a car? When I was 16 I studied the guide diligently to ensure I knew all the rules of the road so to pass the written test. But imagine if my education stopped there? Imagine if I didn't receive any further guidance whilst driving a car for the first time? I'm not sure that I would want to be on the road with me….
There are several educational theories that discuss the benefits of a theoretical and practical approach to learning. The 70:20:10 Learning Model was developed by Morgan McCall, Robert W. Eichinger and Michael M. Lombardo. This philosophy is based on how individuals internalise and apply what they learn based on how they acquire the knowledge.
70% from real life and on-the-job experiences, tasks, and problem solving. This is the most important aspect of any learning and development plan.
20% from feedback and from observing and working with role models.
10% from formal training.
This model really resonates with me and I've come to think about it in how we address upskilling our teams around AN-ACC.
From the 1st of October we move to the AN-ACC world where assessments of residents will be conducted by external assessors and providers will be advised only of the classification of the resident. When determining the resident classification, External Assessors will use clinical frameworks that are not widely used in aged care.
The AN-ACC Reference Manual and AN-ACC Assessment Tool sets it out as:
"The AN-ACC Assessment Tool includes the following assessment sections that need to be completed for each AN-ACC Assessment:
Assessment details
Technical Nursing Requirements
Resource Utilisation Groups – Activities of Daily Living instrument (RUG-ADL)
Australia-modified Karnofsky Performance Status (AKPS)
Palliative Care details
Palliative Care Phase
Palliative Care Malignancy
Frailty – falls and weight loss
De Morton Mobility Index (DEMMI) – modified
Australian Functional Measure (AFM)
Behaviour Resource Utilisation Assessment (BRUA)."
In our conversations with providers less than 20% are currently using any of these assessment tools and most commonly the De Morton Mobility Index, is the only tool being applied. This is likely because of mobility being the first step in defining a resident's classification.
Click on image to expand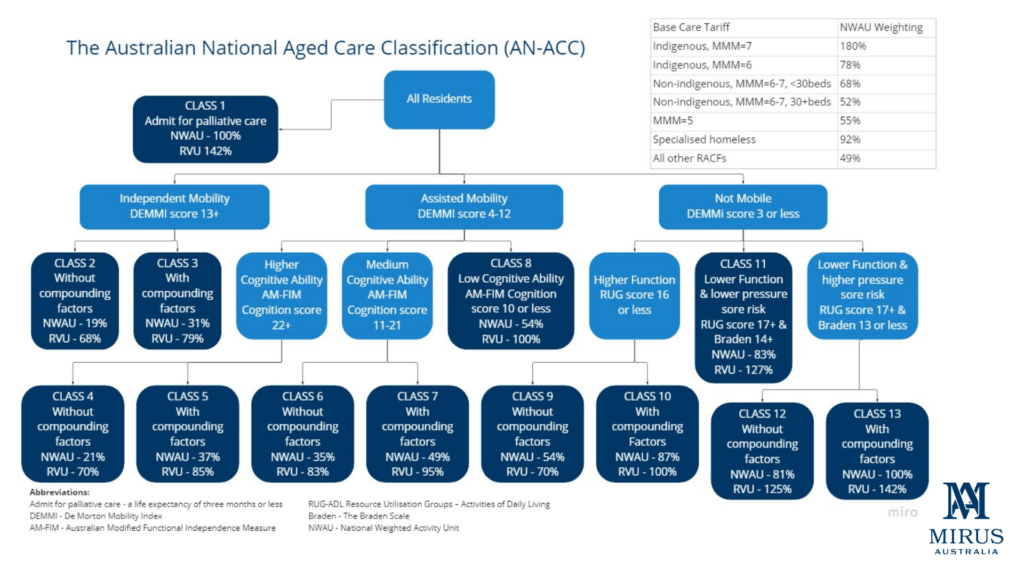 It's important to remember that AN-ACC will, as ACFI has, account for 70% of a residential aged care provider's income. Therefore, the importance of your residents being given the correct classification cannot be downplayed. Your staff will need to be able to estimate a resident's classification to ensure the funding they receive and the care minutes they require are correct.
Essentially, the dynamic will flip to the provider becoming the validator.
Whilst the Department of Health are confident in the skills of the External Assessors, they have included an appeal process if a provider does not agree with a resident's classification.
So, remember the 70:20:10 rule? To interpret a resident's classification there will need to be significant education of your team so they can confidently apply the new clinical frameworks. We've been working with providers across the industry to design the right solutions to help teams get the practical learning and experience to confidently apply the thinking in their roles.
Formal Theoretical Learning (10%)
Our newest course – AN-ACC Advanced Course – now includes a module on Clinical Assessments. This course has had so much interest, we are selling out weeks months in advance. To book a public course or to arrange a private course for your team, visit the website.
Practical Coaching and Mentoring (20%)
Our AN-ACC Assessment and Education solution provides a supported approach to using the clinical assessments on your residents under the guidance of our Consultants. Not only does this approach reinforce your team's learning it also identifies those residents whose shadow assessments could be appealed.
For more information, please reach out shannon.sanderson@mirus.group