Will technology solve all of your workforce management problems?
September 1, 2017 | Workforce Management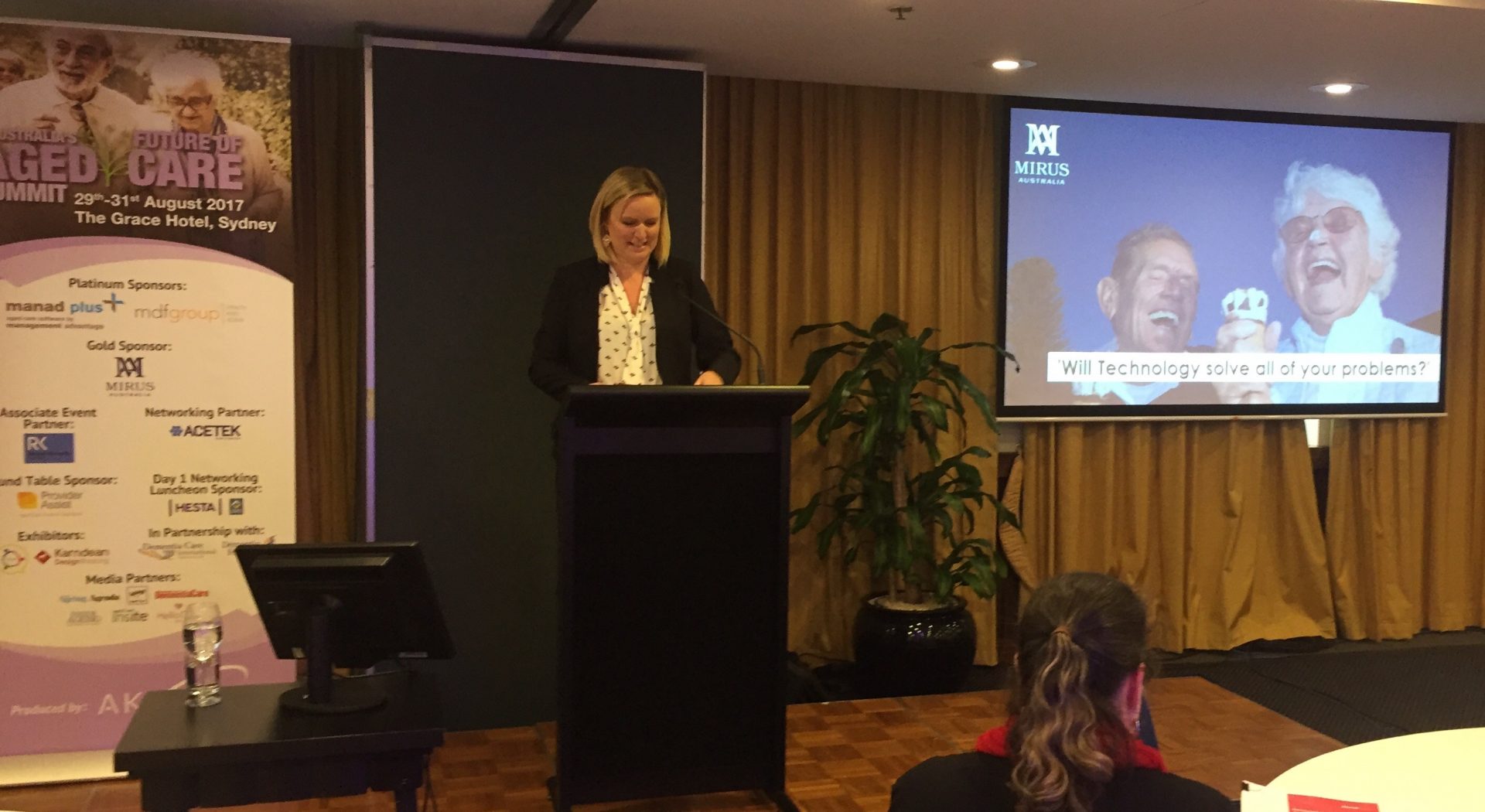 Recently we had the honour and pleasure of speaking at Australia's Future of Aged Care Summit in Sydney. Sara Golding, our Business Lead for Workforce Solutions, discussed whether technology can solve all of your workforce management problems.
As a Business Lead – workforce solutions, Sara and her team work with organisations every day on all things workforce management. Quite often that journey starts with a client saying to us "I think I have a problem". While those problems can vary, they frequently start with "I'm not sure if I'm utilising my permanent staff effectively" or "my agency spend is really high" or "my current processes are cumbersome and labour intensive – do you think technology could automate and fix that for me?"
I think I have a problem
Last year we embarked on a project with a large residential aged care (RAC) provider who wanted to replace their existing workforce management system (WFM). They had had it in place for many years and it wasn't working for them as the organisation grew. So it was important to not only talk to the Executives within the business but also to drill down at a Site level to find out what was working and what wasn't to ensure we identified all of the clients pain points, and where the existing system was not meeting their needs.
What we quickly uncovered was that their current rostering solution was archaic and practically redundant. But it also didn't have good processes & practices wrapped around it, and so the two issues together were actually exacerbating the organisations problems. Furthermore, we uncovered that staff were dictating the shifts they worked. Quite often this was through conversations in the corridor or with sticky notes left on the Roster Administrator's desk!
This often left the Sites with no option but to utilise casual or agency staff to fill any staffing gaps. As we know, this can be very costly but also reduces the continuity of care for residents.
Peeling Back The Layers
Our journey with the client started with them believing the problem was a technology based issue that was not meeting their needs as they grew from one to ten facilities. However, by peeling back the layers across the organisation we were able to quickly ascertain that there was more broken than just the technology. It was really clear to us that we needed to first look at the people involved in the day to day running of the workforce management system. It was also important for us to know what the organisations mission and values were when it came to their employees and residents. There is so much more than technology involved when we are talking about the human lives of our employees as well as the residents we care for.
One of the key ingredients in moving from where you are today is making sure you have the right people in place. Sometimes you won't have the right people in place and so it's necessary to make organisational change. Once the right people are in place, you will need to make sure they have the proper support, tools and training to effectively carry out their roles. With our client, they thankfully had the right people in place. What we found instead was that one of the main issues stemmed from a delay in receiving information far too late from head office. Therefore, technology alone was not going to solve all of our clients problems.
A whole new world
Following this process, our client soon saw many improvements. Firstly, an increase in flexibility amongst the staff as regular conversations were taking place about their availability. Streamlined and fairer processes were implemented across the organisation enabling fairer rosters. As well as a greater visibility across the organisation of all of the Provider's Sites workforce data. The organisation saved a lot of money. At one Site alone by reducing agency spend, better utilising available staff and flexing rosters to suit occupancy, funding and resident acuity within the facility we were able to save them $5,400 per fortnight. This is without looking at any other efficiency or headcount gains. So now we're looking at a highly engaged organisation with the ability to provide better care for its residents as well as seeing a good return on their investment.
Like any technology, there is the ongoing support requirements, potential training needs but more than that, there is the ongoing lens that we need to ensure we are putting over the organisation to ensure we are keeping up with the ever changing needs of running an aged care facility. By keeping a lens over the organisation and remaining fluid, you really can see your organisation grow.