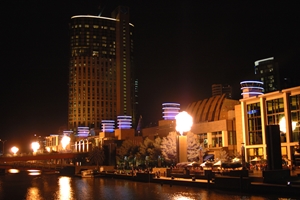 The annual tri-state conference and exhibition held at the Albury Entertainment Centre is an opportunity for delegates from New South Wales, the Australian Capital Territory, South Australia and Victoria to discuss challenges in the aged care sector.
This is certainly necessary, given the growing pains on the way for the industry over the next few years. An influx of residents demanding more choice when it comes to care, issues with staff availability and managing a decline in the number of working-age staff are all serious issues.
The 'Aged Care: Adapt Today. Thrive Tomorrow' conference launched on February 22, and Leading Age Services Australia (LASA) invited delegates to discuss the emerging challenges in the sector. LASA CEO Trevor Carr also noted that it was a good opportunity for delegates to "share their own experiences of adapting to a changing environment".
The next decade will be a turbulent time for many Australian industries, with issues only compounded as the population grows.
"Australia's population is changing, with the percentage of people aged over 65 predicted to increase by 18 per cent in the next five years. In the next 35 years people aged over 85 years will increase from 1 per cent to 5 per cent," Mr Carr said.
He noted that in Victoria alone, people over the age of 65 will increase by 22 per cent within the next 35 years. In addition, regional areas are starting to grow faster than other parts of Australia in terms of elderly population.
With the number of aged care residents rising, there's a clear need for both further facilities as well as the necessary levels of medical care to support an older population. However, Mr Carr offered a solution.
"The ageing industry needs to meet this demand through innovation and by developing a more integrated health system."
"We must adopt new practices and continually shape our services to ensure we achieve greater access to quality care and services for our older Australians."
Other difficulties of course remain, and will provide a strong basis from which to construct an aged care sector capable of managing future demands.
One certain challenge over the next few years is funding sustainability, especially for providers in regional areas that will likely see a substantial influx of residents.
Aged care is definitely a sector that's continuously evolving, and it will need to keep adapting to deal with changing demands.
What do you think are the biggest opportunities for success in the aged care industry today? Please contact us and let us know!