AN-ACC care minutes & the impact on rostering
October 6, 2022 | AN-ACC

The Australian National Aged Care Classification (AN-ACC) has brought a change in rostering practices across the Aged Care industry as a new link between funding and rostering is introduced.
Over the duration of ACFI, many providers relied on rolling the Master Roster over from fortnight to fortnight, and the rostering team has sat independently from the finance team. This means that existing rosters are set subjectively and may not accurately reflect the care that facilities are being funded to deliver and may not fluctuate in line with changes funding.
This changes under AN-ACC. Each residential aged care facility will be prescribed a quarterly care minute target and Registered Nurse (RN) minute target based upon their resident cohorts AN-ACC classification mix. You can view your facilities care minute target now on the My Aged Care Provider Portal. A few key points to note:
From 1st July 2023, providers will need to have an RN onsite 24 hours a day.
From 1st October 2023, case-mix adjusted care minute targets will become mandatory.
From 1st October 2024, the average care minute target will increase from 200 to 215 and the RN care minute target will increase from 40 to 44.
What does the data say about performance against care minute targets?
Stewart Brown's Aged Care Financial Performance Survey March 2022 indicates that between RN, EN & PCW staff roles, the industry is providing an average of 178.8 minutes of care per bed per day (PBPD) and 27.6 RN minutes PBPD. This data indicates that to reach an average of 200 minutes across the sector, residential aged care providers will need to increase their care staff workforce by an average of 11.7% (21 minutes PBPD) in an already competitive labour market.
The 2020 Aged Care Workforce Census found that, at the time of the census, 51% of residential aged care homes had vacant Personal Care Worker roles, and 38% had an RN vacancy, with a total of 9,404 vacant care positions across the residential aged care sector. We note that this number has likely increased since the census as a result of workforce attrition, industry growth and preparation for the introduction of 24-hour RN requirements and mandatory care minute targets.
While Stewart Brown's report indicates that the sector will generally need to increase their care staff workforce, anecdotally through our Workforce Diagnostic projects, we have provided analysis on planned & delivered care time against care minute targets and have seen a wide variety of workforce preparedness between facilities.
In our experience, we've found providers are either significantly over or under-rostering. Some organisations we've worked with have been delivering as many as 400 minutes of care PBPD throughout the COVID-19 pandemic so will need to improve operational efficiency through AN-ACC by reducing rostered care time.
On the other end of the spectrum, some providers that we have completed analysis for are delivering as little as 120 minutes of care PBPD despite actively recruiting for months on end. One common theme we have observed across all the organisations that we have completed a Workforce Diagnostic for is the increasing reliance on Agency staff, with most providers now utilising Agency care staff on a daily basis. This notion is supported by our Mirus Industry Analysis (MIA) data, which showed an increase in Agency Staff utilisation of 45.62% from July 2022 – August 2022.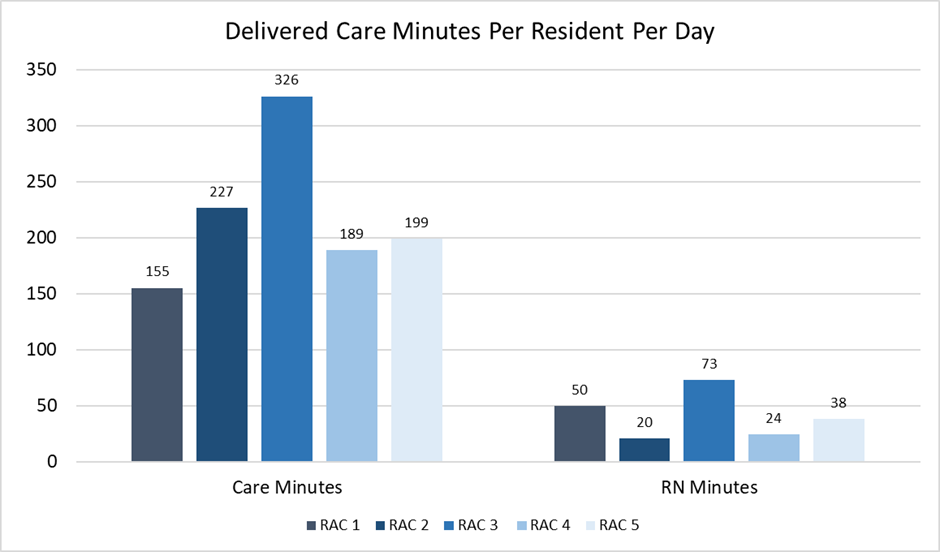 Recommended Strategies
Implementing a regular review of the Master Roster, Worked Hours (including Payroll data) and Facility Care-Minute Targets. Where there is difficulty attracting qualified care staff to meet care minute targets, implement a comprehensive strategy to attract and retain care staff. For those facilities that are potentially over-rostering, we recommended undertaking a comprehensive review, involving clinical staff, to align the Master Roster with Facility Care Minute Targets to ensure that care needs are being met while more closely aligning delivered care with resident care needs.
Based on our experience with roster analysis and Workforce Diagnostic projects, each facility will be in a different position and will need to take a real-time look at the minutes of care being delivered to their residents against their unique care minute target to determine how they are placed to meet the care minutes requirements under AN-ACC.
Industry wide challenges
It is no secret that the aged care industry is experiencing a workforce crisis, with an already significant shortage of qualified care staff, and particularly Registered Nurses, coupled with AN-ACC care requirements and forecasted growth in demand for residential aged care services across the nation.
To support providers to meet these increased workforce demands, AN-ACC funding began on the 1st of October 2022 and care minutes targets will be mandated on the 1st of October 2023, giving providers a 12-month period of increased funding to establish an appropriate workforce to meet the prescribed care minute targets.
What are you doing to prepare for mandatory care minute targets?
If you'd like to discuss care minutes and rostering, please contact us: