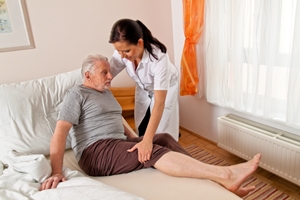 Admitting residents into aged care facilities has traditionally been a process capable of being completed without issues, but policy changes earlier this year have caused setbacks.
Now, elderly Australians are finding delays in admissions to aged care facilities, given the need for new assessments. Leading Age Services Australia (LASA) and Aged and Community Services Australia (ACSA) are taking a problem solving lead here and seeking a solution.
The need for correct information
All residents moving into aged care facilities under the new financial arrangements need to have income and assets tested by the Department of Human Services (DHS). Obviously, with such a substantial elderly population, it can be difficult to process the sheer number of assessments.
This has resulted in widespread delays and even incorrect assessments since the introduction of the 1 July changes earlier this year.
"The latest member survey data shows that almost 80 per cent of providers have received information of an incorrect assessment notification as of October 4," explained LASA CEO Patrick Reid.
Elderly Australians and aged care providers depend on these assessments being completed in both a timely and correct manner, to streamline the facility admissions process.
Leading industry bodies have decided to take initiative here, and are now focusing on effectively resolving the delays.
Industry bodies taking the lead
LASA has sought meetings with the Minister for Human Services and the Secretary of Human Services to begin resolving the Means and Asset assessment process.
The organisation states in a press release that members have been providing information "from the front line", but it's now necessary to hear from the ministers as to exactly how the issue will be rectified.
"We are still seeing incorrect or erroneous client notification letters which do not provide the correct calculations for age care recipient's care and accommodation contributions," Patrick Reid said.
He also explained how it's been nearly five months, and it's simply "not good enough" for older Australians requiring care.
ACSA has also come forward, stating that although the number of means testing concerns are falling, it's still a serious issue.
"It creates significant difficulties when the assessment is incorrect or late as providers do not know what fees would apply and the potential care recipient would have no idea how much they would have to pay," CEO Adjunct Professor John Kelly explained to Australian Ageing Agenda.
The organisation has forwarded every incorrect appraisal to key Department of Social Services and DHS personnel.
These industry bodies will no doubt continue to be invaluable assets for the aged care sector over the next few years, ensuring providers can offer the best possible level of care to elderly Australians, without running into roadblocks.
Solving the assessment delay issue is of course a valuable first step, and one that will ensure elderly Australians are paired with appropriate care.