Not-for-Profits outperform in ADS & Occupancy.
Rob Covino presents Mirus Industry Analysis (MIA) insights into the previous month's key performance indicators across the not-for-profit, private providers, and the cumulative industry trends from the 89,000+ beds the Mirus Australia team currently monitors for financial sustainability.
The September period saw Occupancy levels hit a 12-month high at 89% occupied bed days. The Industry saw 243 more admissions than last month, with Private operators achieving 13% more admissions through the Hospital channels than the previous month.
The Industry can expect continued growth of Average Daily Subsidy (ADS) as both the Private and Not-For-Profit operators achieved nearly 4% of their ACFI reassessment Voluntary claims in September.
Overall Care Minutes saw a steep drop of over 18%. However, the largest decline came from the Assistant in Nursing (AIN) and Enrolled Nursing (EN) minutes, dropping by nearly 20%, with an average of 98 minutes per bed per day.
Lastly, our AN-ACC Essentials Course is having very positive feedback as many organisations are beginning to prepare for the ACFI to AN-ACC transformation which is now less than 12 months away. As your organisation gets ready for this transition, please visit our dedicated AN-ACC Resource Hub page, to see tools, insights, and advice to help you prepare and manage the change with confidence.
---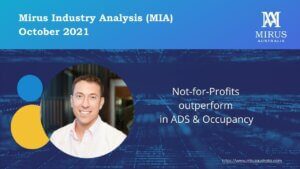 Download a PDF of our data slides to use in your own presentations.
Get insights for your own organisation against the industry data
Benchmarking & Insights allow you to compare your Average Daily Subsidy (ADS) to the industry average. You will also gain valuable insights into your ACFI/AN-ACC claiming activity and benchmarking to support your occupancy, revenue, and workforce strategies. What's even better, is that it's free.
Click here to benchmark your facility today.
About Mirus Industry Analysis (MIA)
We love numbers and we love data! With one of the largest Aged Care databases in Australia, each month we bring you MIA – a monthly wrap up of insights captured from data covering 89,000+ beds.
Please contact us if you have any questions about this edition.