New Medication Management Guiding Principles
January 10, 2023 | Quality

By Katie Airey, Quality, Risk and Compliance Lead
On the 28 November 2022, the Department of Health and Aged Care (DoHAC) released the Medication Management for Residential Aged Care Facilities Guiding Principles.
These guiding principles were developed using an evidenced based approach to best practice in managing medication in a residential aged care facility (RACF) setting. They aim to minimise the risk of harm from the use of medicines, while applying a person-centred approach that is responsive and respectful to the needs of people residing in a RACF.
What are the Guiding Principles?
There are a total of fifteen Guiding Principles, the first four principles form the overarching requirements to enable effective application of principles five to fifteen.
Each principle includes:
A statement of the guiding principle
Explanatory notes including:
What has changed since the 2012 edition?
The new Guiding Principles for Medication Management in residential Aged Care Facilities includes two new guiding principles; 1 – Person-centred care and 2 – Communicating about medicines and consolidates some of the previous principles to reduce the total number of Guiding Principles to 15 from 17, below shows the mapping from the 2012 edition to the current Guiding Principles.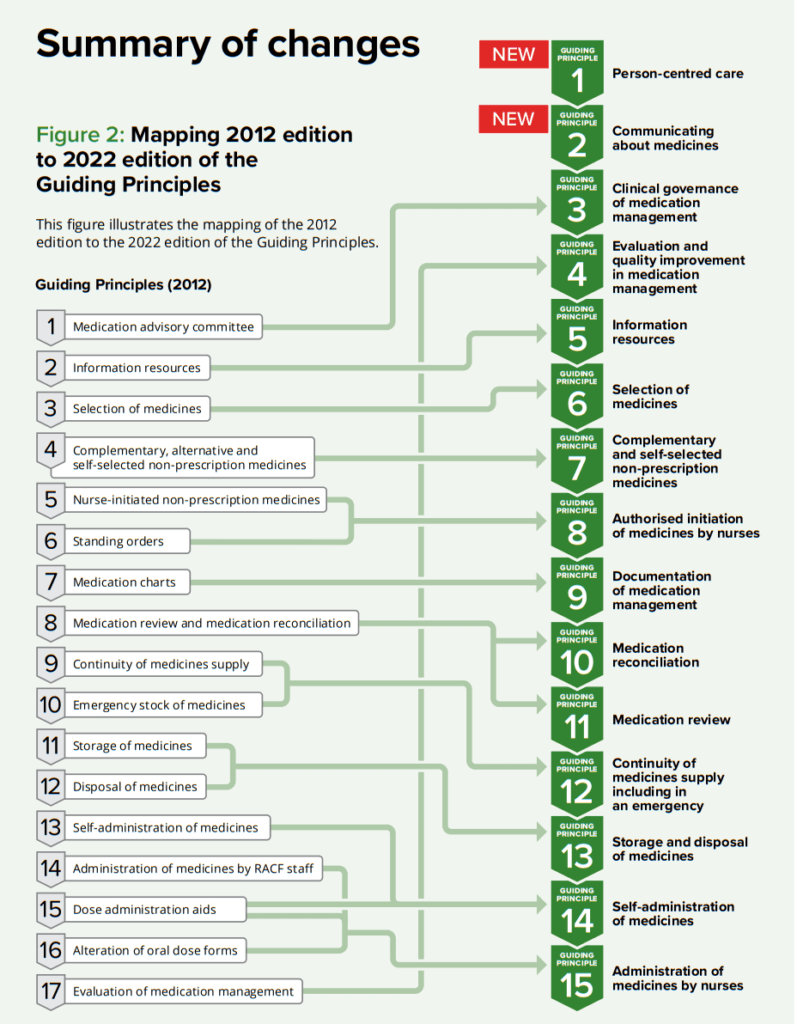 What are the fifteen guiding principles statements?
Person-centred care
The RACF provides person-centred care. This includes respect, emotional support, physical comfort, information and communication, continuity and transition, care coordination, informed consent and involvement of a person's carers and family. A person has the right to partner in their care to the extent that they choose.
Communicating about medicines
The RACF ensures that all medicines-related communications consider health literacy, are 'person-centred', and collaborative, and facilitate shared decision-making, advocacy, and self-determination.
Clinical governance of medication management
The RACF has systems and processes that are used to support and promote safe and effective management of the quality use of medicines within the facility.
Evaluation and quality improvement in medication management
The RACF routinely reports on the mandatory medication management indicators and regularly reviews, identifies, and evaluates risk within each area of medication management, taking follow-up action where required.
Information resources
The RACF ensures access to the most current and evidence-based medicines-related information, tools and resources for each person receiving care, their carers, the RACF healthcare team and visiting healthcare providers.
Selection of medicines
The RACF supports informed evidence-based decision-making for the selection of medicines used within the facility.
Complementary and self-selected non-prescription medicines
The RACF supports informed selection and safe use of complementary and self-selected non-prescription medicines for each person receiving care.
Authorised initiation of medicines nurses
Where deemed appropriate, the RACF has policies, procedures, and guidelines, endorsed by the RACF's MAC, in place to allow the authorised:

Initiation of non-prescription medicines from an approved list
Use and review of prescription medicine treatment protocols.

Documentation of medication management
To support safe prescribing, dispensing and administration of each person's medicines and effective communication of their medicines-related information, the RACF ensures that a current, accurate and reliable record of all medicines selected, prescribed, and used is documented on their medication chart (paper-based or electronic).
Medication reconciliation
Medication reconciliation processes are used within RACFs to:

Verify a person's medication history
Reduce the risk of errors in medicines documentation when care is transferred, or new medicines are prescribed
Ensure all medicines are ordered and received as intended.

Medication review
The RACF healthcare team and visiting healthcare providers ensure that each person's medicines are reviewed regularly and as needed, to optimise medicines use and minimise medicines-related problems.
Continuity of medicine supply including in an emergency
The RACF minimises interruptions to medicines supply and maintains timely access to medicines for each person receiving care. This may include having access to a curated emergency stock of medicines.
Storage and disposal of medicines
The RACF ensures that:

All medicines, including self-administered medicines, are stored and handled safely and securely, and in a manner that maintains the quality of the medicines
Unwanted, ceased or expired medicines are disposed of safely to avoid accidental harm and misuse
Disposal of medicines aligns with sustainable and environmental best practice.

Self-administration of medicines
The RACF:

Supports and seeks informed consent from individuals who wish to administer their own medicines
Ensures policies, procedures and guidelines are in place to guide the assessment and re-assessment of a person's capacity to self-administer medicines safely.

Administration of medicines by nurses
Each RACF ensures it has policies, procedures and guidelines in place that are endorsed by the RACF's MAC, to guide the safe and effective administration of medicines by appropriately qualified and authorised nurses.
Other related resources
Providers also have the following resources to reference when considering changes to their medication management framework: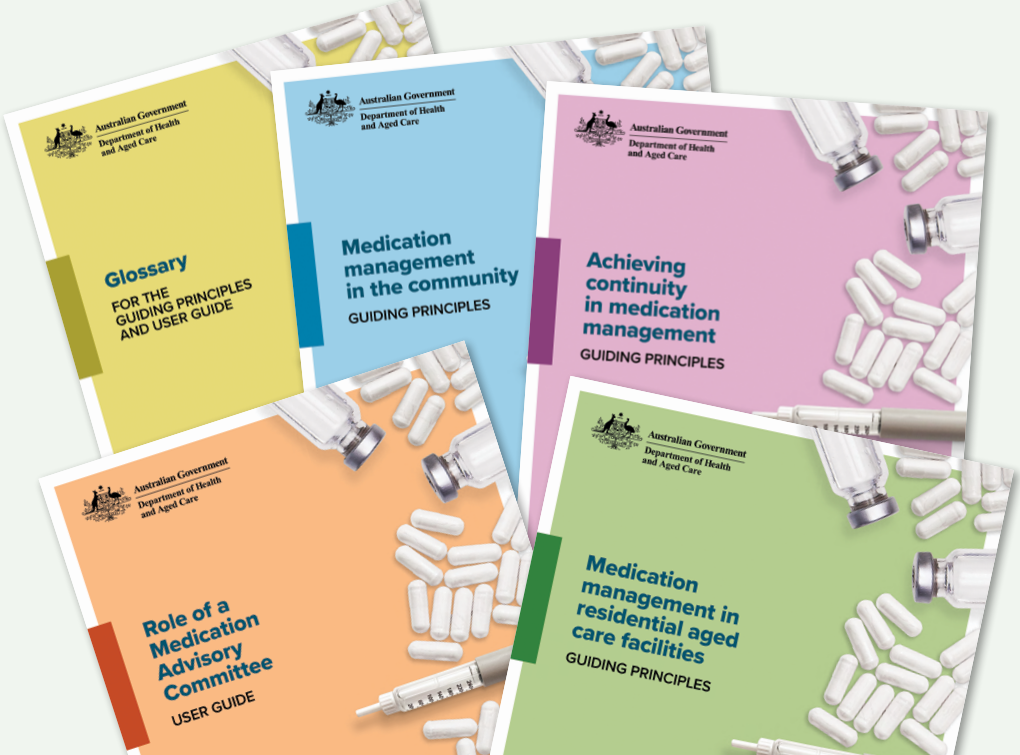 Implementing changes to policies and procedures, training plans and workforce culture can be challenging.
When providers review and/or implement changes to include these guidelines into their current practices, they should also consider national legislation, along with any applicable legislation in their State and/or Territory.
If you would like to learn more, get in touch with us! Together we can #MakeAgedCareBetter