Technology in aged care – The beauty and benefits of The Virtual Forest™
April 4, 2018 | Aged Care Management
Across Australia, aged care facilities use technology and innovation to improve work and care processes for the benefit of residents.
Technology can offer a range of benefits for seniors, including improved mobility and independence, communication and interaction, and improved quality of life.
A recent Australian study by Helen Hasan and Henry Linger into "Enhancing the wellbeing of the elderly: Social use of digital technologies in aged care" proved that the use of information and communication technology contributed positively to the wellbeing of the elderly. Particularly in relation to self-esteem and personal development, productivity, self-sufficiency or enjoyment. 1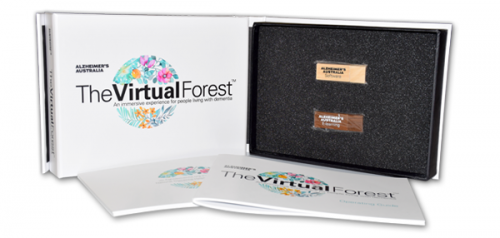 The Virtual Forest™ is one such example where technology is used to enhance quality of life for residents – particularly for those living with dementia.
Using a large interactive screen, The Virtual Forest™ employs gaming technology to create a visual and sensory experience. It is designed to immerse the user in a peaceful and enjoyable virtual environment.
The Virtual Forest™ portrays a beautiful park setting, with colourful flowers, lush trees and a gentle-flowing river – which the residents often find calming, engaging and enjoyable.
Seasons can change with a clap of the hands, and animals can appear and move around the scene with hand motions detected using a special sensor. The sensor allows for a customised experience that is driven by the user.
Residents, their family members and carers have reported seeing numerous positive benefits for residents when interacting with the Virtual Forest™. Contentment, relaxation, a decrease in anxiety levels, higher levels of engagement, a brighter disposition, and greater levels of concentration and coordination have all been cited as benefits of the program.
To see residents interacting with the Virtual Forest™ and hear from carers firsthand, watch the video here.
At Mirus Australia, we combine People and Technology to ensure the best outcomes for aged care providers. Our workforce, revenue and operations solutions are #makingagedcarebetter across Australia. Partnering with Mirus delivers real results for aged care, so that you and your team can focus on what matters most – your residents.
Reference List
1: Enhancing the wellbeing of the elderly: Social use of digital technologies in aged care
https://www.tandfonline.com/doi/abs/10.1080/03601277.2016.1205425?scroll=top&needAccess=true&journalCode=uedg20
Images courtesy of Dementia Australia.
https://www.dementia.org.au/learning/centre-for-dementia-learning/the-virtual-forest