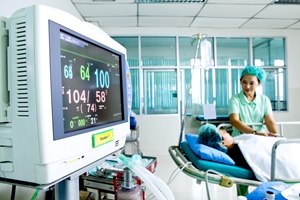 Design and construction on the first stage of the new Epworth Geelong hospital is currently underway, and set to provide a high level of health care for the region over the next few years. In addition, it's being developed in an entirely new way.
As the region continues to see strong population growth, and an expanding number of people requiring care (such as the elderly), new approaches to designing and developing hospitals are required. That's why Epworth Geelong has partnered with Deakin University, one of the most prominent education institutions in the state.
Under the partnership, the hospital and university are bringing together a comprehensive array of skills, and delivering a new approach to traditional teaching, health care and even research. As a result, the level of care set to be delivered to patients will be of an extremely high standard.
"The hospital will provide clinical training for undergraduate and postgraduate medical, nursing and allied health students, and serve as an important centre for health sciences research," said Premier Denis Napthine.
As the Australian population continues to grow older, research is needed to combat many of the diseases and ailments common to older age groups.
Having a facility able to provide both an extremely high level of care and research will be invaluable over the next few years, and the hospital will likely become a hub of medical science for Victoria. In addition, making diseases less difficult to manage will make aged care management easier, as residents can be cared for more simply.
"This new hospital will ensure that Geelong and the associated districts have the best possible health care," Mr Napthine explained.
Health infrastructure is currently one of the biggest areas of development within Victoria, with over $4.5 billion currently invested in projects. A substantial $200 million is being invested in Geelong alone. Of this amount, $120 million has been allocated to the hospital.
There's no slowing down the growth of the aged care sector, or the subsequent number of Australians that will require higher levels of care over the next few years.
Having a facility in place able to distribute a high level of care will be invaluable.