Why your case mix could change your care minutes on 1 October
August 9, 2023 | AN-ACC
By Taranjot Minhas, Consultant
Most providers are aware that June kicked off the calculation period that will be used to calculate the mandatory care minute targets for October-December 2023 quarter (see screenshot below from the Department's webinar on this recently).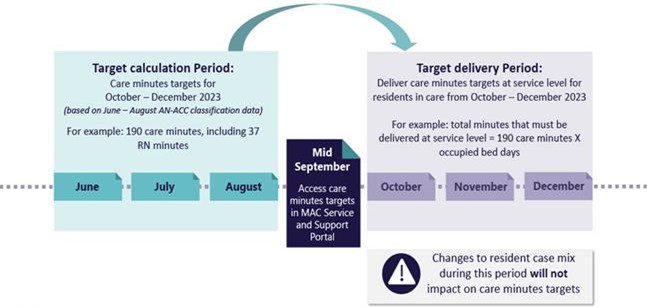 Most providers are also aware of the change in Relative Value Units (RVUs) of each AN-ACC Classification, which are the weightings used to calculate care minutes from individual AN-ACC classifications, are changing on 1 October 2023.
We recently caught up with the Department of Health and Aged Care (DoHAC) and they confirmed that these RVUs will continue to change from time to time as they adjust the model to fit requirements in line with new evidence of care costs reported in the Quarterly Financial Report (QFR).

From that meeting with DoHAC, we can share that the care minute targets for the October-December 2023 quarter will be calculated using the updated AN-ACC class care minutes, instead of current care minutes. The Department explained that they aim to adjust the calculation period to allow publishing targets in advance of the quarter from October onwards.
This means that on 1 October, every provider's case mix could go through a significant shift in its care minutes – either in their favour or against. It may also move very little as this fluctuation depends on how each individual distribution of classifications matches the changing RVUs (refer to table above). The effects of this change could, of course, flow onto each facility's Star Ratings – Staffing score and overall scoring as well.
Based on this information, we recommend all providers reforecast for the coming quarter and beyond. To help with this, we have developed a FREE FY24 Budgeting reforecasting report that is available here and will help you to understand the impact of these changes at each facility.
Our Mirus Metrics clients can also track their targets in real time for greater control and response to the new mandated performance metrics. Care Minute Manager also allows you to plan, track and report the delivery of AN-ACC care minutes.
For further questions or concerns, don't hesitate to contact us.