Have you missed anything on the Aged Care Reform Roadmap?
July 7, 2023 | Aged Care Reform

By Taranjot Minhas, Consultant
While the aged care reforms have brought a lot of changes to the sector to improve care outcomes for older people, many providers are experiencing change fatigue. With more changes coming for the next two years at least, it's easy to just focus on what is urgent or right in front of us. To help with change fatigue, we have collated a list of reforms that may have not been at the front of providers' minds so far. Having a view further out helps providers to plan better, transition more smoothly, seek knowledge or help and potentially be less task based and more innovative.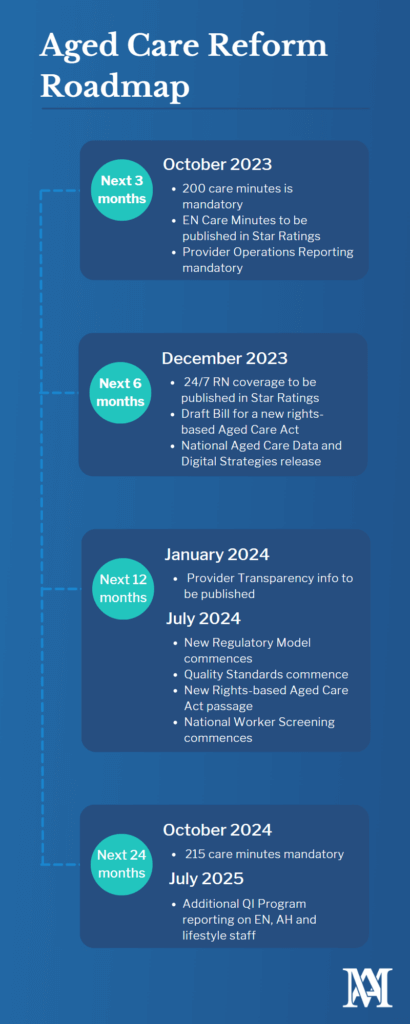 From October 2023, Enrolled Nurse (EN) care minutes delivered in residential aged care will be published under the staffing section of the facility's Star Ratings. We've heard examples of providers preferring to employ RNs rather than ENs to achieve their desired Star Ratings outcomes, so this additional publishing of data can provide clearer insights on a facility's staffing skill mix. Providers are also required to submit annual information about their operations by 31 October 2023 and each year following, including:
Statement signed by the governing body regarding the provider's compliance

Income in relation to the service in a financial year

Expenditure on:

Care, including labour costs

Catering

Maintenance

Laundry & cleaning

Administration

Profit & loss in relation to the service in a financial year

The most common kinds of feedback & complaints received by the provider

Improvements made by the provider in relation to quality of the service

Demographic representation of the members of the governing body

Initiatives that support a diverse and inclusive environment in relation to the service, for consumers and employees

Total number of persons who have received residential care

Occupancy rate

Number of persons who entered the services and

Number of persons who the provider ceased services to.
From December 2023, 24/7 Registered Nurse (RN) coverage in residential aged care will be published under the staffing section of the facility's Star Ratings. We can also expect a draft Bill for a new rights-based Aged Care Act, and national aged care data and digital strategies to be released. These strategies could have meaningful impacts on the new Act and Quality Standards too.
From January 2024, providers' financial information will be published on the My Aged Care website, as part of the Dollars Going to Care measure which could see greater accountability required from providers and questions being raised of certain providers.
July 2024 will see a new Aged Care Regulatory Model, the Strengthened Aged Care Quality Standards, and the new Aged Care Act coming into effect. We will also have a new National Worker Screening for aged care. All of these changes could mean significant policy and procedure changes for providers.
October 2024 will see a further increase to mandatory care minutes target to 215 total care minutes and 44 RN care minutes per resident per day.
July 2025 will see another expansion to the National Aged Care Mandatory Quality Indicator Program to also including reporting on enrolled nurses, allied health, and lifestyle staff in residential aged care.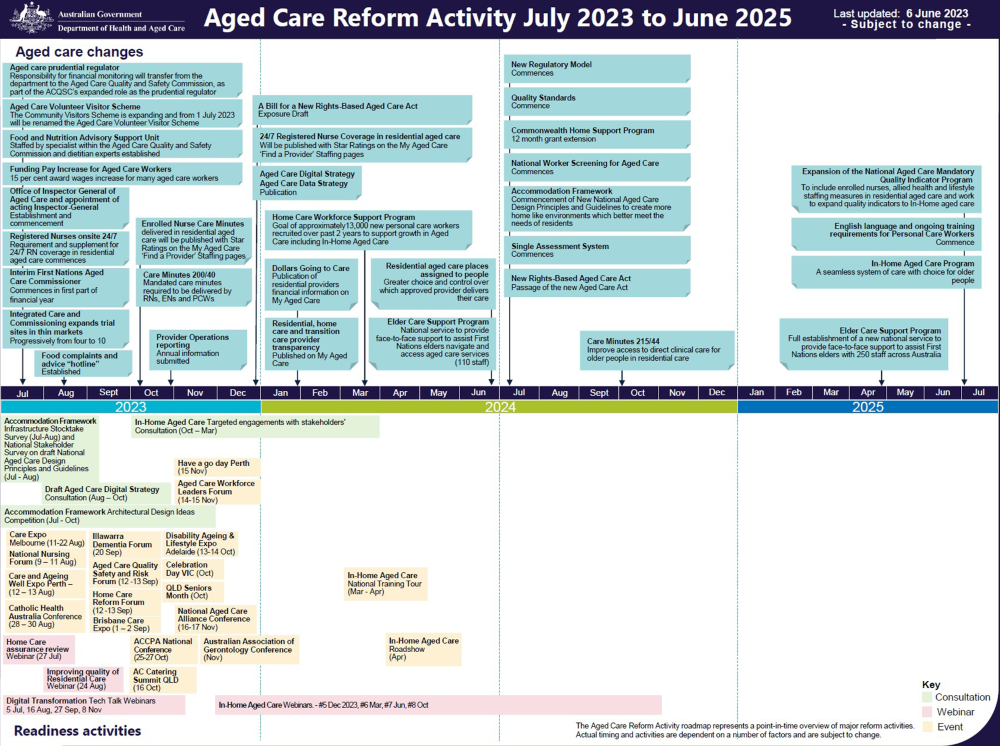 For further details for any of these reforms, please see the Department website.
We're working with providers to gain efficiencies and manage these reforms effectively, through our Quality Standards Course and Workshops and Aged Care Reform Transition Service.
Don't hesitate to reach out to us for more information.