Every 30 seconds an aged care professional in Australia is reviewing a resident's ACFI score
May 21, 2020 | Technology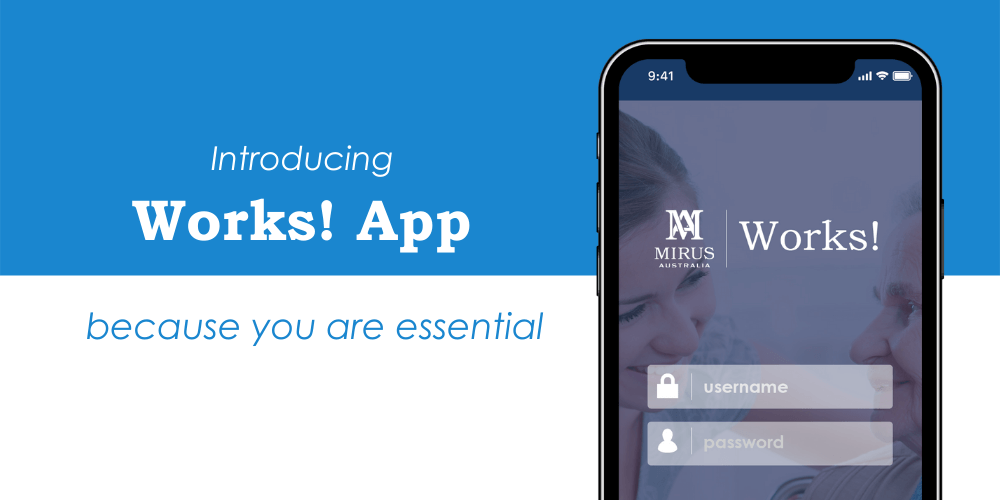 Every 30 seconds an aged care professional in Australia is reviewing a resident's ACFI score.
And now The Works! App. Because you are essential.
Sydney. Australia: The Mirus ACFI Calculator has over 2 million client views and every 30-seconds an aged care professional around Australia is reviewing, calculating and assessing funding requirements based on the care needs of their resident.
Launching today from Mirus Australia, the Works! App is ready for an internal competition! When Mirus Australia released the free ACFI Calculator App in 2012 to support aged care professionals with ACFI business rules, the app market was still relatively new in aged care.
"As per our business intelligence reporting, approximately four (4) aged care professionals are still logging in every minute to help with their roles and responsibilities," says co-founder of Mirus Australia, James Price.
Mirus Australia understands the industry is under financial stress and continues to co-design strategies with providers, for providers and particularly to support 100% of a provider's funding income and one of the greatest expenses of any business – their workforce.
The free Works! App will directly support Mirus Works! clients and their staff to manage rostering to the acuity of residents, occupancy, funding, skills and compliance, award interpretation and integrate with financial, care and human resource systems to further provide improved visibility and ultimately performance.
Last word, from Tom Murphy, Head of Workforce at Mirus Australia;
"These days, our phones are an extension of our lives. The Works! App will help aged care professionals to achieve work-life balance by giving them more control of their work schedules, and in real-time so they can focus on the more important things in life!"
Works! App. Because you are essential. For more information about the Works! App.
About
Mirus Australia is a leading people + technology business with the shared goal of #makingagedcarebetter. In addition to the free ACFI Calculator, Mirus Metrics our business intelligence tool, supports over 72,000+ Medicare verified beds and 3,000 user sessions a day. With each session saving staff a minimum of 10 minutes per day, we estimate this represents a saving of 7.8m minutes a year or 130,000 hours or 5,416 days. Now they are great numbers.
Media Enquiries
Andrew Farmer, CEO andrew.farmer@mirusaustralia.com | Amanda Jones, CMO amanda.jones@mirusaustralia.com