How AN-ACC will change the future of rostering in Aged Care
February 2, 2022 | AN-ACC

By Tom Murphy, Head of Solutions
The Aged Care sector is bracing itself for a raft of legislative changes over the next few years. The changes are the biggest since the Aged Care Act was introduced in 1997 and have a strong focus on the Aged Care workforce and consumer choice. In addition to a minimum staff time requirement, a new star rating system will help consumers make informed choices about their Aged Care service. This will also mean the future of rostering in aged care will change.
Some of the changes have already taken affect and others will commence later this year. With such a rapid timeline, Aged Care providers should already be reviewing their workforce planning processes and rostering software requirements. A key consideration will be to align process and technology to ensure minimum staff time is met whilst continuing to balance the budget.
The timeline below shows the milestones related to workforce management and the star rating system.
October
2021
Annual Aged Care Financial Report updated
Reporting for FY21 required providers to report on care hours. A separate quarterly report requires providers to report expenditure related to food and nutrition (including staff time/cost)
July
2022
Quarterly Aged Care Financial reporting commences
New report will collect facility data including care minutes
October
2022
Funding model changes to AN-ACC
AN-ACC case-mix of residents in a facility will determine the minimum care minutes requirement
December
2022
Star rating system commences
Reported care minutes reporting will determine a facility's star rating. These will be made available on My Aged Care, allowing consumers to compare facility ratings across a range of indicators, including minutes of care
October
2023
Compliance to care minutes requirement become mandatory
The standard will be 200 minutes for each resident, including 40 minutes of registered nurse time – the standard will vary based on a facility's AN-ACC case mix
Getting ahead of the key changes
The Royal Commission into Aged Care Quality and Safety highlighted information about service quality needed to be improved. Consequently, one of the recommendations was to introduce star ratings to help senior Australians compare different services and providers.
Whilst the rating system is being designed, we already know that aged care services will receive an overall star rating, as well as a rating across 4 sub-categories:
quality indicators
compliance ratings
consumer experience
staff care minutes
We also know the rating for care minutes is directly correlated with minimum staff time and AN-ACC classifications.
The new minimum staffing standard has three requirements which will need to be reported from October 2022 and become mandatory by October 2023:
Residents will need to receive an average of 200 minutes direct care per day. This will be case-mix adjusted based on the AN-ACC ratings of all residents.
At least 40 minutes of this must be provided by a registered nurse.
Each day, a registered nurse must be on site for morning and afternoon shifts.
Crucially, the minimum staffing standard will vary between facilities and how they perform to that standard will define their star rating. This means a facility with a higher-than-average acuity – determined by their AN-ACC case mix – will have a higher minimum staff time requirement than a facility with lower average acuity.
Consider the following scenario (figures used are for illustrative purposes only).
The resident population of Facility A has a lower than average AN-ACC case mix, therefore the minimum staff time has been calculated as 190 minutes per resident per day. Meeting this minimum standard will achieve a 3-star rating but rostering above 190 minutes per resident per day will achieve a 4 or 5-star rating.
The impact on workforce management and compliance will therefore be two-fold. Firstly, reporting on compliance to care minutes will form part of the quarterly reporting that determines a facilities overall star rating. Secondly, this requires a proactive approach to roster planning as well as tracking performance in real-time will be critical to avoid surprises in the quarterly report.
Preparing for the future of rostering
Setting and tracking budgets, regular reviews of roster requirements and instant cost and hours insights will still be key themes for finance, rostering and clinical teams. The difference being the data required to maintain and exceed compliance. To prepare for the future of rostering, Aged Care providers can take a compliance, responsive or – with real-time insights – proactive approach as they prepare for the changes.
Below are some of the core activities and key considerations to keep in mind to enhance your rostering process.
Quarterly: Compliance review and planning
Compare how you're performing to annual budget.
How do your workforce costs compare to budget? If you're over or under, why is there a difference? Has demand been higher than anticipated? Have you included enough head room to allow for leave, sickness, and administrative time?
Review acuity and strategically plan for changes
Analyse the care profile of new admissions and discharges – are you seeing or planning for a general change in acuity? If so, that may mean your rostering templates should be updated so they can quickly be deployed.
Prepare and submit quarterly Aged Care Financial Reporting
A simple report exported from your rostering software needs to show total care minutes for staff in direct care roles. This will need to include RN time and demonstrate an RN was rostered for all morning and afternoon shifts.
Fortnightly: Responsive roster planning
In-depth cost review
Did the roster go to plan financially? If you went over budget, what caused the overspend? Significant agency usage or unplanned overtime? How can this be avoided next pay period?
Respond to changes in acuity
At the end of each roster period (typically fortnightly), review the prospective resident waitlist to understand the potential impact on your minimum staff time. This may mean you need to deploy a different rostering template.
Review compliance to minimum staff time
Were you able to meet or exceed the required minimum standard every day? If not, what might be the impact on your star-rating? What changes might need to be made to make up the difference?
Daily: Predictive time and cost tracking
Determine staff time standard for each site
Export resident data, including AN-ACC classifications from Medicare and calculate the case mix adjusted minimum staff time.
Export actual direct care hours worked
This will be a sum of all shifts where direct care is provided. This includes carers, enrolled and registered nurses. Allied health is currently excluded from this.
Have you met the requirement today? Will it be met tomorrow and the rest of the roster period?
Determine current and forecast cost of roster
Apply the relevant penalty rates, loadings and allowances across all hours worked to work out the cost of the roster.
Will you stay on budget this period? If not, what changes could you make to avoid overspend?
Rostering software built with all this in mind
If that sounds like a lot to stay on top of, that's because it is! To best prepare for the changes, Aged Care providers need a rostering platform that includes flexible, scenario-based planning tools that integrates with Medicare. Mirus Works! has been built with this in mind includes a native integration with Medicare.
Click on image to expand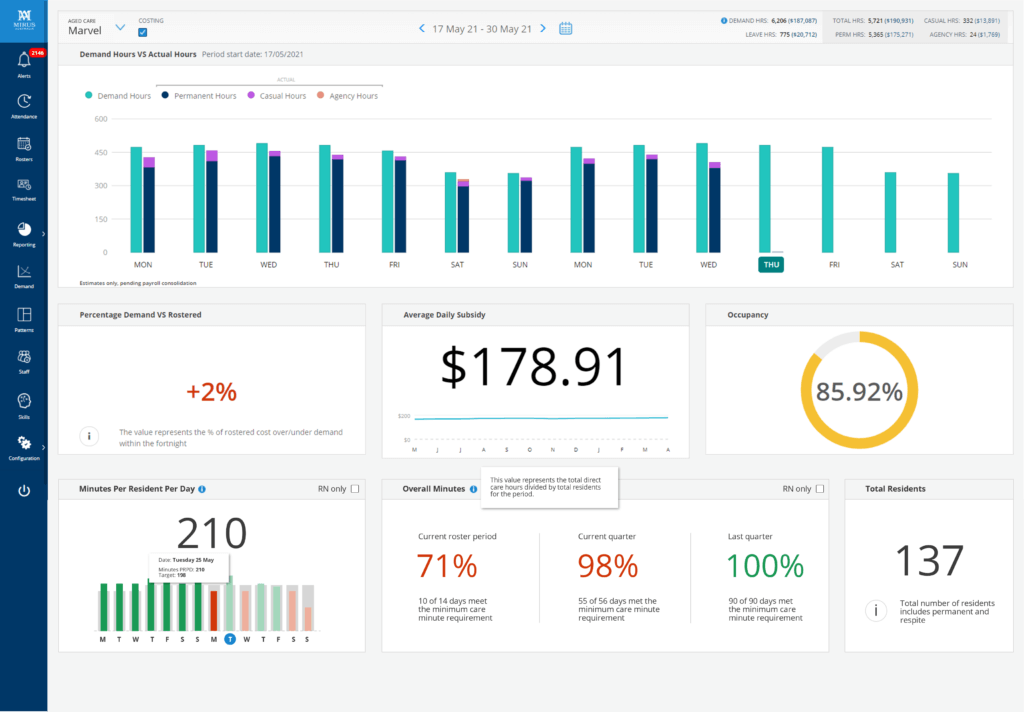 Track care minutes in real-time
Under the new funding model, with every resident movement or change in funding comes a change to a facility's case mix adjusted care minutes. Mirus Works! imports these changes and updates the requirement in real-time. With a view of forecast hours each day, you can clearly see where you need to increase or decrease staff hours and maintain compliance.
Performance to budget
Powered by the Mirus Works! Award Interpretation engine, every rostering decision is fully costed from site planning to individual shifts. This ensures that you not only meet the required staff time but also balance the budget and ensure staff are paid correctly.
Demand vs Actual
Manage your site's performance for hours planned vs actual. Operational insights highlight where you might be over or under resourced and the cause of potential overspend.
If you're ready to get ahead of the changes, click here.
Further resources:
For more information on AN-ACC, visit our AN-ACC Resources Hub.
The AN-ACC Resource Hub contains tools, insights and solutions to help you prepare your organisation to transition to AN-ACC so that you're ready for October. We also support clients through a Project Management Office. Find out more by visiting the Hub.