April 2021 saw the end of the BIF Improvement Fund and commencement of the AN-ACC Shadow Assessment process.
With a new process, the mixed feedback and commentary from our clients have started to flow in.
Background
In 2016–17, the Australian Government announced it would investigate strengthening residential aged care funding, including looking at possibly replacing the current funding assessment tool, as well as the ACFI options to use external assessment services.
The Australian National Aged Care Classification (AN-ACC) aims to improve funding arrangements to RACFs and promotes better care for senior Australians through:
independent, accurate and nationally consistent funding assessments

removing the administrative burden of the ACFI assessments from aged care providers so they can spend more time providing high quality and safe care.
How it works
The proposed AN-ACC funding model would introduce changes in three main areas: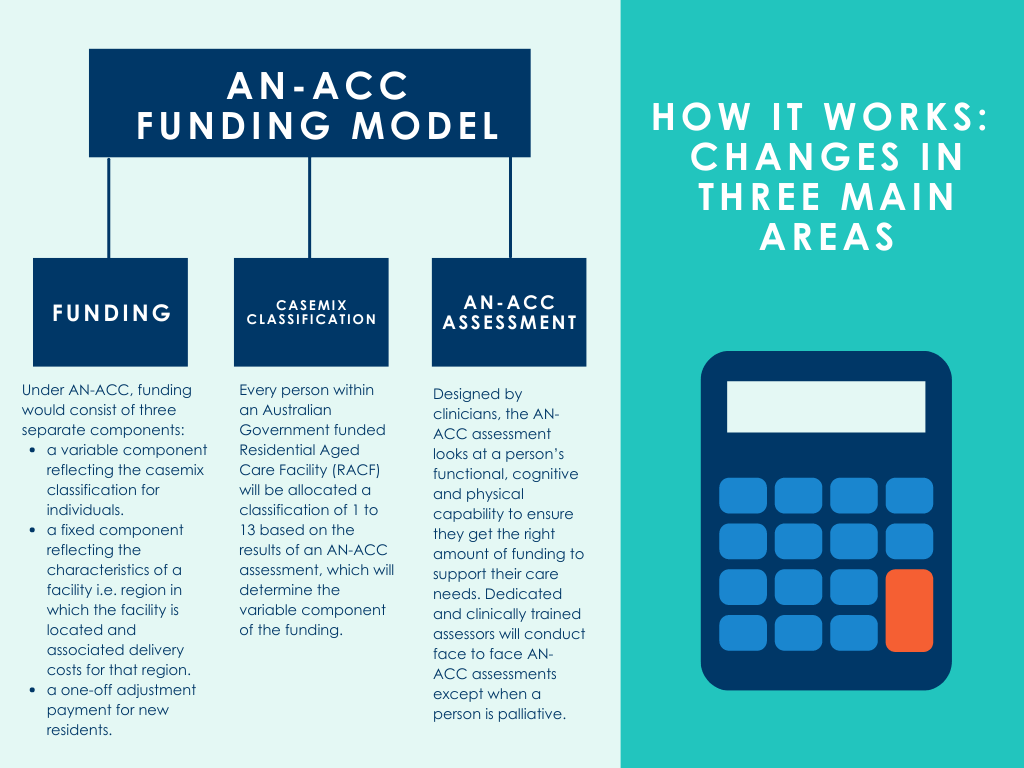 Where are we now?
AN-ACC shadow assessment period
Starting in April 2021, all residents in an Australian Government funded RAC (excluding Palliative Residents) will undergo an AN-ACC assessment. This period will be referred to as the 'shadow assessment period', and will run over 12 months, alongside the current ACFI arrangements. These assessments will help to facilitate an easy transition to the AN-ACC funding model, if the Government proceeds with AN-ACC as a replacement for the ACFI.
AN-ACC assessments will be conducted by specially trained and qualified aged care clinicians who will visit all Australian Government funded residential facilities across Australia.
AN-ACC assessments completed during the shadow assessment period will:
be conducted using a purpose-built, clinically trialled and tested, digital assessment tool

consider the person's functional, cognitive and physical capability

be a combination of interviews, observation and clinical reference

be used to determine the appropriate casemix classification to support a person's individual care needs under the proposed funding reforms.



There will be no change to the current ACFI funding system during the shadow assessment period. ACFI assessments, funding, and reviews will continue as normal for new and existing residents.
What does this mean for providers?
During the shadow assessment period, residential aged care providers will be contacted by an Assessment Management Organisation to organise a time for AN-ACC assessments to be conducted at their facility (minimum 2 days notice)
To reduce the burden on providers, the AN-ACC model utilises independent assessors who will work with facilities to minimise disruption. For this reason, AN-ACC assessors require access to residents, care staff, resident lists, clinical information systems and suitable areas within facilities to complete assessments.
When this happens, providers should:
continue to meet the care needs of their residents in line with the Aged Care Quality Standards

continue to follow the current funding process and submit ACFI assessments and reviews for new and existing residents

inform residents and their families/carers when AN-ACC assessors will be at the facility to conduct assessments.
If your ACFI voluntary process is strong then all the relevant care plans and assessments should be up-to-date in your CMS
What has been the experience of completed sites so far?
As expected with a wide reaching, independent assessment workforce, the application has varied depending on State and even within the same independent assessment provider; some assessors will complete a resident within 1 hour, while at other facilities they have spent 2.5 weeks on only 25% of the resident population. These assessment variations, as well as the available clinical resources required by the independent assessment organisations could impact the announced 12-month targeted deadline.
Some assessors have been very open, transparent, and allowing staff to see them conduct the assessments. While others have been completely closed off to interference or involvement with the site teams;
The assessors have been relying a lot on what is in the care management system and available clinical source documents – such as: care plans, incident reports, progress notes etc. They are looking for "frequency of episodes" such as falls, behaviours, CHC treatments. Some have even asked to see ACFI packs. It appears, the only part of the process you can influence is in making sure your documentation is thoroughly reviewed.
With regards to the financial conversion of the AN-ACC outcomes – we will have to wait for Treasury to determine the forecasted funding which will inform the financial amounts per classification. We assume the government will make this public following the shadow assessment period.
What could you be doing now and next?
The following timeline will help you to begin to plan for AN-ACC. Over the next few months, Mirus will be releasing regular updates on AN-ACC so please follow us to stay informed.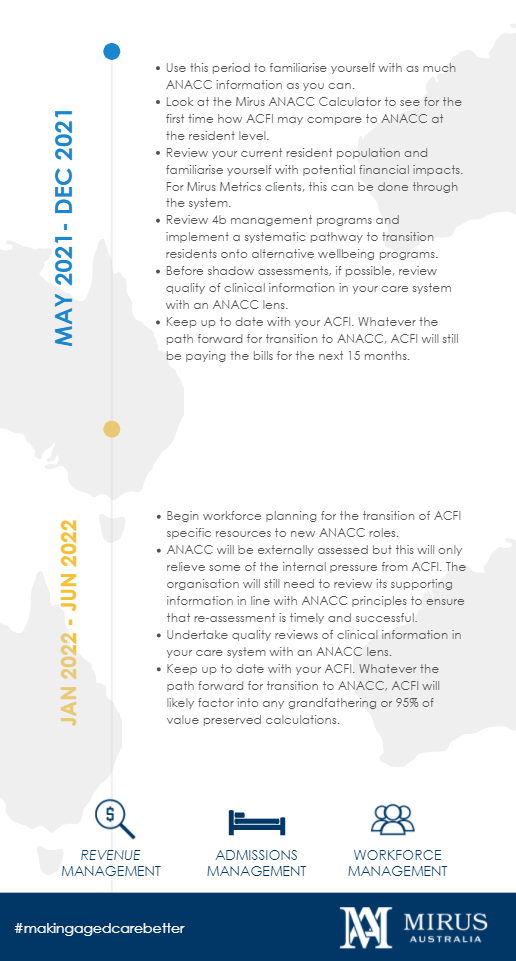 Mirus will be supporting our clients with a smooth transition to the new funding model based on more than 12 years working with clinical funding models in Aged Care.
If you have any concerns or would like more information, please contact us on support@mirusgroup.com
As your organisation gets ready for the ACFI to AN-ACC transition, please visit our dedicated AN-ACC Resource Hub page, to see tools, insights, and advice to help you prepare and manage the change with confidence.