Key updates to AN-ACC and the Mirus AN-ACC Calculator
September 2, 2021 | AN-ACC

Last week, the Department of Health released an update1 to provide clarity around the formulation of the National Weighted Activity Units (NWAU) and deter any errors in financial modelling. This added transparency is welcome news to providers who may be feeling a little uncertain about the changes to ACFI.
The Department announced a commitment to a NWAU higher than $185, meaning within the 'all other RACFs' case mix classes, the daily payment would range from $125.80 to $275.65 at the minimum (see Table 1). Based on our estimates that further incorporate the additional budget items that would be rolled into AN-ACC – adding between $1b – $1.4b to annual subsidy expenditure – this would result in a NWAU value of $185 – $190.
On the surface, this is a minimum increase to ADS2 of 8-11%, however there are some caveats and variables worth noting.
What's new?
The Government has committed $17.7 billion over five years in additional aged care funding3. $3.9 billion has been earmarked to increase the Minimum Care Minutes measured and $3.2 billion for a Basic Daily Fee Supplement of $10 per resident per day. Both budget items will be paid via the AN-ACC subsidy, along with existing Viability and Homeless supplements.
While the Average Daily Subsidy will be higher with AN-ACC than what it is today with ACFI, it is important to remember the Basic Daily Fee Supplement, the Viability supplement, and the Homeless supplement are being paid today and will simply transition from a dedicated supplement to part of the AN-ACC subsidy.
Facilities currently attracting Viability supplements but are not classed in Modified Monash 6 or 7 zones will need to assess the impact of losing that supplement without any AN-ACC replacement.
The Basic Daily Fee Supplement currently comes with reporting obligations; it is not yet clear whether the reporting requirement will cease after October 2022.
Similarly, the $3.9 billion budgeted for the new Minimum Care Minutes requirement will in some cases be matched with an increased workforce expenditure, in other words, the higher cost of workforce will cancel out any potential funding growth.
The Department has also updated that the COVID-19 lockdowns are impacting Shadow Assessments, which may push out the release date of the final reports and pricing. They have not however changed the AN-ACC start date of 1 October 2022.
The release of the official NWAU price so close to the AN-ACC start date, won't leave providers much space for planning for the financial implications, but factoring in a NWAU of $185 minimum should at least provide some base-level certainty until we receive the next update.
What you can do with this new information now
While the Government has made it clear they intend to keep the funding at the industry level the same or higher than pre–Royal Commission and meet their policy commitments in this respect, there will still be variable impacts to the industry.
An industry ADS increase of 8% – 11% is welcome news but each facility will be impacted differently. The impact of AN-ACC will vary from facility to facility, based on the acuity of the consumer cohort (case mix) and to a lesser extent geography and demographics (base payment). There are still some gaps to the information needed to support our analysis and as this information becomes available, our models will be updated.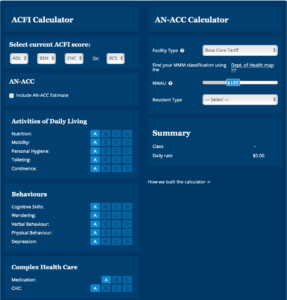 The AN-ACC calculator on our website allows for adjustment to the NWAU assumption and the facility type. We are updating our calculator for our estimated NWAU of $185-190, so for Mirus Metrics and Benchmarking users, it will show an updated view of impact down to the resident level.
While it is true that there is no direct translation of ACFI to ANACC, we have mapped the underlying care elements between the frameworks. We believe this is accurate enough to illustrate the changes in classification and therefore the increases and decreases that can be experienced between the models.
We recommend using the variable NWAU scale in the calculator to model scenarios for individual calculations and to use these as indicative estimates only. Please continue to get in touch with us for more comprehensive input and modelling. On-demand AN-ACC reporting available in Mirus Metrics will assume a NWAU of $185 and a facility type of 'All other RACFs'.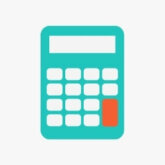 Our AN-ACC Essentials course helps you to understand and prepare for the changes across both funding and clinical, helping relieve some of the anxiety your team may have throughout these changes. This course is based on information currently available from the Department and discussion elements from our interaction with clients.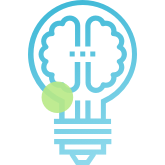 The best advice we can give right now is to keep your eye on your ACFI and take advantage of any increased funding and updates to clinical documentation you can do now. Optimising your ACFI is key to a successful transition to AN-ACC, which is why in future, all of our ACFI Advanced Courses will include the AN-ACC Essentials training as well.
The Mirus ACFI to AN-ACC Pathway (MAAP) tool
We are preparing to help our clients transition smoothly to AN-ACC and to do this we have designed an AN-ACC transition framework. This framework, called the Mirus ACFI to AN-ACC Pathway (MAAP), aims to help you understand your readiness for the changes from now into the new AN-ACC world. The tool provides details on how to prepare your organisation across the five workstreams of Finance, People, Processes, Data and Systems.
Get in touch now to talk to us about this in more detail.
Table 1: AN-ACC rates with a $185 NWAU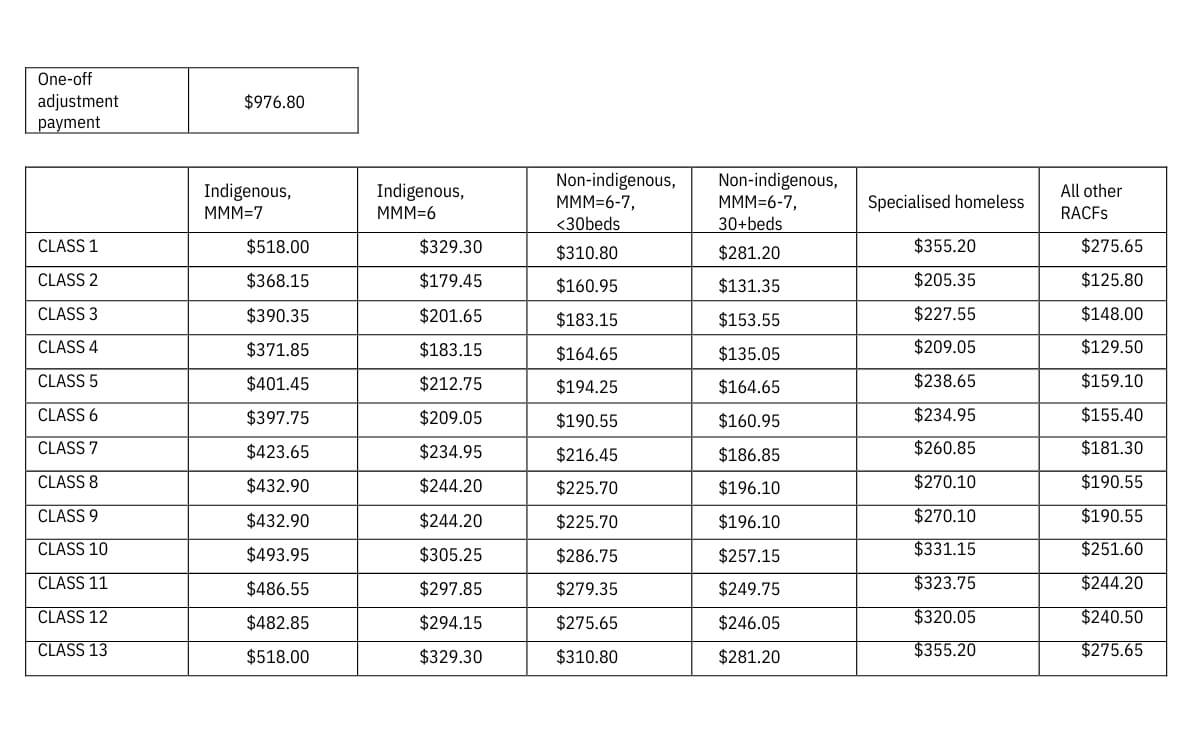 (1) https://www.health.gov.au/sites/default/files/documents/2021/08/transitioning-from-acfi-to-an-acc_0.pdf
(2) ADS is $190.52 as of 24/8/21
(3) https://www.health.gov.au/ministers/the-hon-greg-hunt-mp/media/177-billion-to-deliver-once-in-a-generation-change-to-aged-care-in-australia