ACAR adds 
4,100 more beds as occupancy levels returned to a 12 month low
Rob Covino presents Mirus Industry Analysis (MIA), insights into the previous month's key performance indicators across the not-for-profit, private providers, and the cumulative industry trends from the 89,000+ beds the Mirus Australia team currently monitors for financial sustainability. 
Revenue management 
ADS had the largest one-month growth in 16 months reaching $191.82, as the Industry maintained its focus on revenue.
Admissions management
ACAR announced 4,100 more beds in October, the same month occupancy levels returned to the all-time low that we saw 12 months ago. The October period saw 3,100 fewer permanent admissions compared to the previous month. However, a rise of nearly 13,000 respite bed days were utilised.
Workforce management
With October closed, we have now navigated our first month of tracking to the care minute measure announced in the 2021 Budget. The additional funding is intended to support facilities to move towards providing an average of 200 minutes of care per resident per day, including 40 minutes of that time with a registered nurse. However, October saw the RN minutes well below the 40 minute outcome required by this time next year at just 17.21 minutes.
Further resources
Lastly, our AN-ACC transformational programs are having very strong engagement with providers as many organisations seek to explore and implement initiatives ahead of the required changes. As your organisation gets ready for this transition, please visit our dedicated AN-ACC Resource Hub page, to see tools, insights, and advice to help you prepare and manage the change with confidence.
---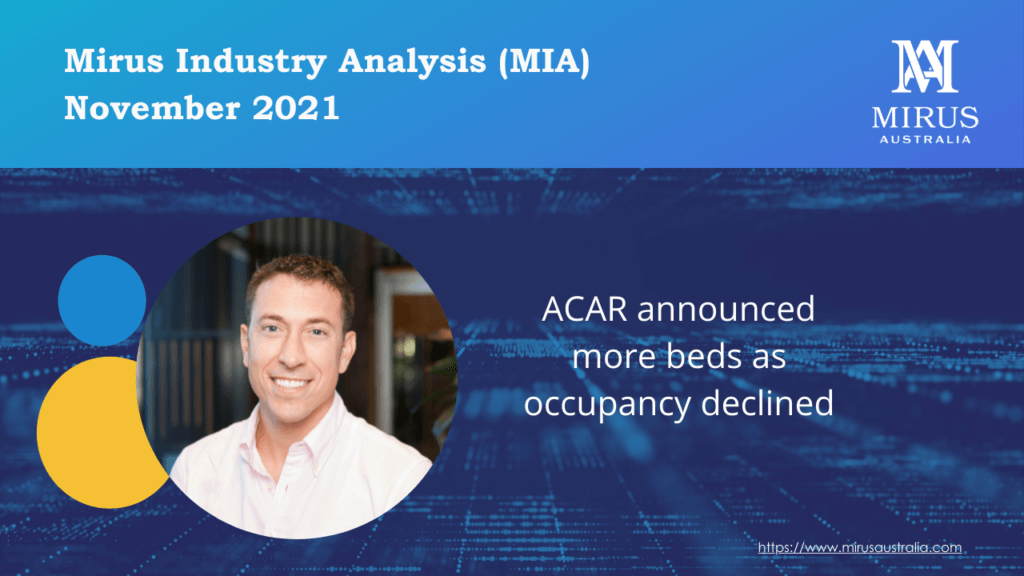 Get insights for your own organisation against the industry data
Benchmarking & Insights allow you to compare your Average Daily Subsidy (ADS) to the industry average. You will also gain valuable insights into your ACFI/AN-ACC claiming activity and benchmarking to support your occupancy, revenue, and workforce strategies. What's even better, is that it's free.
Click here to benchmark your facility today.
About Mirus Industry Analysis (MIA)
We love numbers and we love data! With one of the largest Aged Care databases in Australia, each month we bring you MIA – a monthly wrap up of insights captured from data covering 89,000+ beds.
Please contact us if you have any questions about this edition.